Fitness Classes at Burnt Oak
Burnt Oak offers a fantastic range of Fitness Classes to cater for all tastes, ages and fitness levels. With over 40 classes per week, listed under the following categories you are bound to find more than enough to keep you excited:
Functional Classes: Smaller groups for greater focus. These classes take place on the gym floor and offer intense training with a real focus on exercise technique. Using a range of equipment and body weight, exercises will target and focus on either stamina and endurance, strength and conditioning, functional or cardio.
Strength & Conditioning: Start building a better you. Choose from loads of great, motivational group activities that'll help you strengthen and condition your whole body. 
Total Body Conditioning
Once you start, you won't ever want to stop. These intense, exciting classes combine cardio and conditioning for a full on, high-energy workout.
Better for: Strength and conditioning
Approx calories burned per hour: 420
Mind & Body
Mind & Body: Feel better inside and glow on the outside. Build your strength and flexibility in our lower-impact classes, which will leave you feeling refreshed and revived.
Pilates
Our Pilates classes come in all shapes and sizes, but they all focus on concentration and muscle control, for a highly effective workout.
Better for: Lengthening and strengthening your core
Approx calories burned per hour: 165
Yoga
Loosen up and let go. Our mix of Yoga classes feature a range of exercises from energetic, full-body workouts to relaxing, more traditional poses.
Better for: Gaining peace of mind, improving overall strength and wellbeing
Approx calories burned per hour: 280
Cardio
Cardio : Get your heart pumping and feel better, as we move together in these fast-paced, high-energy classes.
Circuits
Intense workout for immense results. We'll put you through your paces, with high-energy interval training , designed to push you that little bit further and encourage a bit of healthy competition.
Better for: Strength, stamina and endurance
Approx calories burned per hour: 480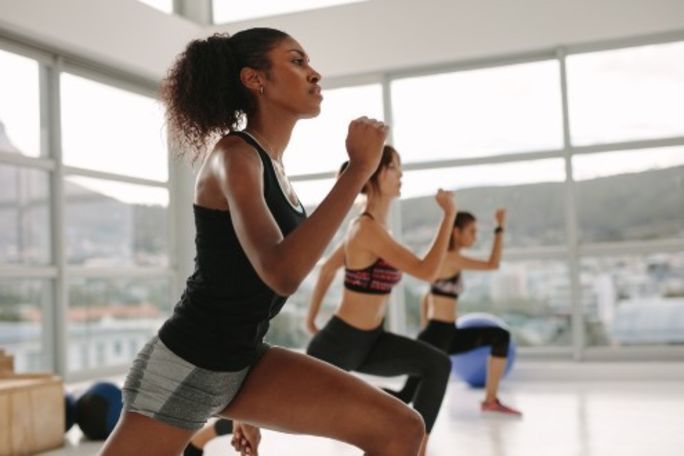 Dance: Get fit and feel great. These fun, energising group activities are guaranteed to put a smile on your face.
Dance Aerobics
Dance yourself fit! Our range of Dance Aerobics classes combine exercise and choreography with infectious music to keep you motivated every step of the way. Choose from one of our themed or discipline-based classes.
Better for: Cardio fitness
Approx calories burned per hour: 550