Burnt Oak offers a whole range of sports developmental courses for our Juniors aimed at keeping them active, and having fun, for ages from 3 - 15 years of age. Please see below days and times available: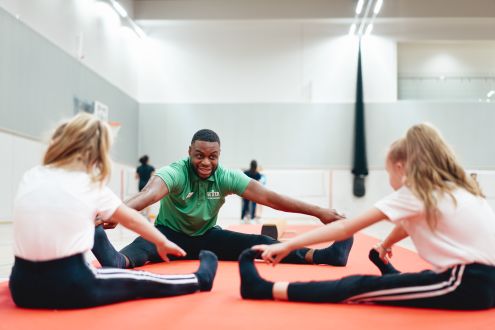 Gymnastics
Gymnastics is an amazing sport, helping children to develop both physically and emotionally. Oyr gymnastics programme provides a progressive journey through recreational gymnastics, giving young people the opportunity to experience an immersive, creative and exciting gymnastics programme, building key foundation skills at their own pace. 
Friday:
3.00 - 3.45pm  - 3-4 years 
3.45 - 4.45pm -  5-7 years
4.45 - 5.45pm - 8-13 years
5.45 - 6.45pm - Intermediate
Saturday:
2.00 - 3.00pm  -  5-7 years
3.00 - 4.00pm - 8-13 years
For more information, click here
FREE Girls Football Sessions
We offer free football sessions for girls aged 8-12 in partnership with Eagles United FC. Whether girls want to try football for the first time or want to become the next Lioness, these sessions are a great place for young girls to learn new skills and make friends in a safe, fun, and structured environment.
What? Free football sessions
Who? For girls aged 8-12
When? Every Wednesday from 18:00 – 19:00
Where? Burnt Oak Leisure Centre: Watling Avenue, Edgware, HA8 0NP
How? To register your interest, please email petrit.krasniqi@gll.org.
For more information, click here