At Hendon Leisure Centre we boast two floors of Gym filled with high spec Technogym equipment, perfect for whatever your training plan and fitness goals are.
On the ground floor we have a large selection of resistance machines which has recently been refreshed with a new colour scheme creating a bright and open feel.  
Our top floor has all the cardio equipment which will really help you work up a sweat, plenty of treadmills and bikes to choose from along with steppers and a Technogym stair climber that will squeeze the most out of your legs.
Located on the upper floor is also our functional Training Zone, the main feature of this area is the Escape Frame Training Rig which has a range of accessories, offering  different types of workouts that can hit you in many different ways. 
See our breakdown of kit below per zone: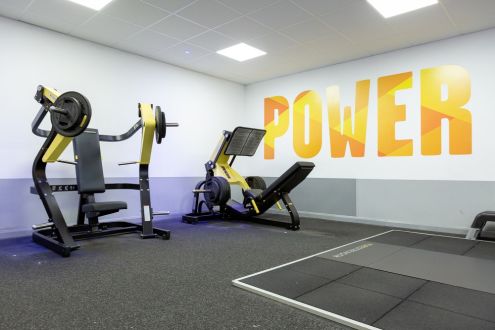 Resistance Area & Weights
If you're aiming to improve your strength, we have a full range of resistance equipment including:
Pure strength machines
Leg press
Pure Strength Inclined leg press
Flat bench press
Incline Bench press
Lap pull-down
Cable pulley
Dual adjustable pulley
Dumbbell racks
2 x Squat racks
Adjustable benches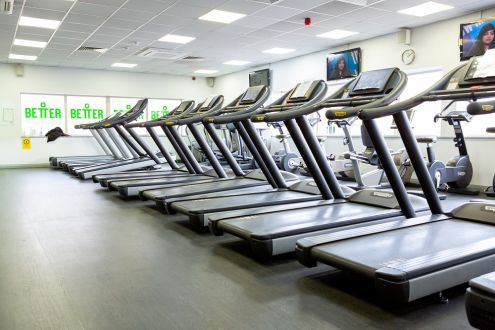 Cardio Equipment
The cardio zone is guaranteed to get your heart pumping and body moving with state-of-the-art Technogym equipment such as:
Technogym Skillmill
Treadmills
Crosstrainers
Rowing Machine
Exercise bikes
Functional Zone
The functional training zone contains equipment that hones in on the core muscles of your lower back and abdomen to improve everyday movement. A selection of the equipment available includes:
Battle ropes
Plyometric boxes
Punch Bags
Kettlebells
Dip bar
Pull up bar
Core bags