Queensmead Sports Centre offers four outdoor floodlit tennis courts. A range of products and programmes are available to members and local residents such as adult private lessons, junior private lessons, junior group lessons as well as casual court bookings.
JUNIOR TENNIS PROGRAMME
Here's our junior programme at Queensmead Sports Centre.
DAY
TIME
ACTIVITY
AGE (approx.)
COST
INSTRUCTOR
RAINSAFE
MONDAY
18:30 - 18:15
Learn Age 8-9
8 to 9
£30.85 Per month
Julie
No
18:15 - 19:15
Learn Age 10-12
10 to 12
£38.35 Per month
Julie
No
TUESDAY
17:00 - 17:45
Learn Age 3-4
3 to 4
£30.85 Per month
Julie
Yes
17:45 - 18:30
Learn Age 5-7
5 to 7
£30.85 Per month
Julie
No
18:30 - 19:30
Learn Age 12+ (Teen)
12+ (Teens)
£38.35 Per month
Julie
No
WEDNESDAY
17:30 - 18:15
Learn Age 5-7
5 to 7
£30.85 Per month
Julie
No
18:15 -19:00
Learn Age 8-9
8 to 9
£30.85 Per month
Julie
No

*Ages are only an indication of stage.

*Blocks can be purchased in 8, 9, 11 or 14 weeks depending on age. 

*Rainsafe: We encourage as much outdoor Tennis usage as possible as long as the courts are safe.
JUNIOR TENNIS COURSES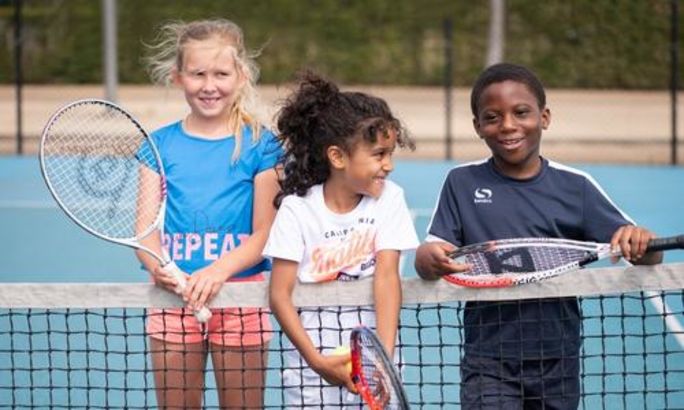 Our popular junior sessions are designed under the guidance of the Lawn Tennis Association (LTA) to assist with tennis learning and development specific to their age group.  We run a 50-week rolling programme with lessons taking place outdoors.
If you'd like to book your child for one of the lessons, please visit us in the centre. If you can't see a session that suits you, please enquire in-centre, over the phone or online and we will endeavour to find or put on a session suitable.
Don't worry, if you're not sure of your child's level, once they have attended their first session, the coach will assess their ability and ensure that they are booked into the session which is the most suitable.
Learn age 3 to 5
Aimed for children aged 3 to 5 years old, enabling them to learn the basics.  They will enjoy and learn the game through a series of fun activities, based on the fundamental areas of balance, co-ordination, agility, movement as well as racket and ball skills.
Learn years 5 to 7
Aimed for players aged 5 to 7 and played on small courts, with short rackets and soft balls. It's just like the real game and gives players opportunities to have long rallies and play different types of shots.
Learn years 8 to 9
Is a great way for players aged 8 to 9 to continue their progress, playing with shorter rackets, softer balls along with bigger and wider courts, but still smaller than full-size tennis courts. This allows players to develop a rounded game whilst learning a range of techniques and tactics.
Learn years 10 to 12
Is a great way for players to continue their progress playing on a full-size tennis court, with bigger rackets and balls which are a little softer than yellow balls. It's the next stage before moving on to full compression yellow balls, on a full-sized court and helps players develop and improve all aspects of their game.
BOOK A COURT TODAY
Our courts are available to book 7 days a week:
| | |
| --- | --- |
| Monday - Friday | 17:00 - 23:00 |
| Saturday - Sunday | 08:00 - 20:00 |
Prices for casual bookings: 60 minute sessions - £12.00.
For further details, please speak to a member of centre staff or email us at queensmead@gll.org
Ready to play? Bookings can be made via BetterUK app or online: