Following the devastating fire that took hold of the swimming pool back in 2018, in partnership with Islington Council, the leisure centre now boasts a brand new six lane, 25m swimming pool, equipped with pool hoist and separate teaching pool.  
You will also discover a bright and airy pool viewing area which leads to the brand new female, male and accessible changing rooms.
Changing Room Access
Children under the age of 8 are permitted to use the changing rooms with their parent irrespective of their gender.  Older children are kindly advised to use the changing room that corresponds to their gender. 
Swim For Fitness
If you're looking for a low-impact way to get fit and healthy, swimming could be the perfect choice. And whatever your fitness levels, age or level of ability, you're sure to find a session for you at Highbury Leisure Centre. Our Swim for Fitness sessions take place in slow, medium and fast lanes, so you can take things at your own pace.
Free swimming for 60+
Free swimming is on offer for people aged 60+ with a Better Adult Senior membership (£6.30 per year). This includes Monday-Friday 9am-4pm and after 1pm at weekends at Archway Leisure Centre, Highbury Leisure Centre, Cally Pool and Ironmonger Row Baths.
Swim School
Our swim school programme is designed to be flexible and affordable. Our experienced, qualified teachers follow the Amateur Swimming Association's National Learn to Swim Teaching Plan. We support all swimmers to progress and take the plunge, whatever their level of ability. Suitable for all age groups, our classes include:
One-to-one sessions
Under 5s
Junior Learn to Swim Lessons
Adult lessons
And much, much more...
Lessons are delivered on a rolling programme that allows pupils to join at any stage and progress at their own pace. Our lessons operate for 50 weeks of the year with a gap in lessons over the Christmas period.
On your first visit you can collect your child's membership card from reception. You'll also get a free swimming hat from your swimming teacher, which should be worn for every lesson.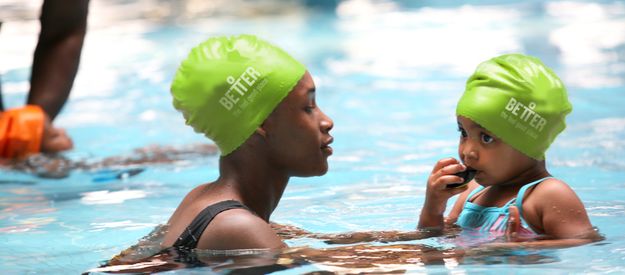 Better Swim Memberships
If it's just swimming that you're interested in, our single activity swimming membership means you'll get unlimited access to swimming.
If you're looking to use the gym and classes too, we offer a wide range of memberships with options to suit every budget. Everything from Pay as you Go, to monthly or annual Prepaid memberships. What's more, we won't tie you into a long-term contract, giving you greater flexibility.