WELCOME TO KENSINGTON'S SOFT PLAY
Our soft play area in Kensington Leisure Centre is ready!  Here's what you are going to see.
A brand new dedicated Soft Play in the old café area, with the café, relocated closer to the reception area. 
The 2-tier Structured Soft Play offers a variety of fun and exciting features for children 10 and under to experience including:
BOOK YOUR SOFT PLAY SESSION TODAY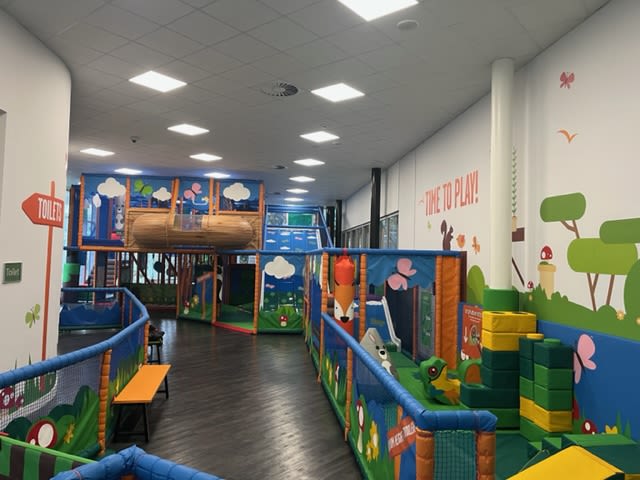 4 lane wavy open slide 
Dedicated toddler's area
Sensory play equipment is perfect for challenging and developing important tactile, visual, proprioceptive, and vestibular senses
Whirlpool infinity deck
Eye-spy live-action panel
Port hole deck 
'Walk of fear' 
Ball pool
Gel deck
Swing ring challenge
Crawl tube
Dome look-out window
Tarzan swing & dizzy disc
Toddler's slide into ball splash
Themed wobbly & rockers
Brick kit & baby park
Party rooms for birthday parties
To accommodate the soft play area we have relocated the café to the main reception area: 
All existing catering services have been maintained & upgraded
A wider range of café food is now available such as Hot Dogs & Pizzas
Specialised in-house catering for birthday parties
As well as this the reception area will see an update too.
The multi-story play structure provides stimulating opportunities for babies, toddlers, and children to play, learn and grow with specific features to improve motor skills, activate the imagination and role-play, solve puzzles and inspire senses for a well-versed play experience.
FAQs
Is there an age and height restriction to using soft play?
The main area will be designed for children aged 3-10 years, and there is a toddler's area for under 3's. Age restrictions will be based on the 75th percentile height chart and thus entry is based on the upper average height not being exceeded, rather than by age. 
What will be the cost to use it?
£8 per child over 2 years old and £4 for any unfer 2
The cost of a child's ticket includes 1 free adult – all additional adults have to purchase an additional adult ticket for £5.
Do I have to supervise my child in the soft play area, or can I leave them so I can go for a swim/gym etc?
Parents and guardians are responsible for the supervision of the children that they bring at all times. They must remain within the soft play area and able to observe their children at all times.
Is there a maximum number of children that I can bring?
There is no limit, providing that the supervision outlined in the previous question is adhered to at all times.
What are the opening times going to be?
Soft Play is open Monday to Sunday 9 am – 6 pm, although opening times may be subject to change during Term Time & Holiday Time.
Will the soft play area cater for birthday parties?
Yes, the soft play area has the capacity to host birthday parties, and we have dedicated party rooms. The café also provides specialised catering for parties.
Will there be session times?
Spaces are bookable every 15 minutes and the dutration of each sessions is one hour.
Am I able to get into the centre via the café's entrance doors?
This entry point is no longer accessible. Entry to the centre is only via the main reception doors.
Is there any job opportunities?
Contact Us
We're excited to open this Soft Play Structure and introduce a new product to your Leisure Centre.  
We are keen to hear your thoughts so please let us know your feedback by speaking to a member of staff or emailing us at kensington@gll.org 
You can also tag & follow us on our Facebook page @KensingtonLeisureCentre and Instagram Page @Better_Kensington