Dance is back at Sutton Sports Village
Our dance classes at Sutton Sports Village encourage an inclusive and friendly atmosphere for students aged 4–18 years. Dance classes are great for improving confidence and developing ability through a wide range of styles including: 
Street
Commercial
Waacking and voguing
House, shuffling and gliding
So whether you're looking to learn a new skill or just want to have fun, we have something for you!
Our classes are run as ongoing courses and they are paid via monthly direct debit. They run during term time only and once registered you will attend your class at the same time each week.
Courses start from Monday 6th September so book your place now!
Sign up
Refresh Dance Initiative (RDI)
Activities timetable
Refresh Dance Initative (RDI) is our brand new dance academy offering fresh, modern styles for those who are both new to dance and those experienced dancers. We who thrive on nurturing a dancers' individual style, whilst providing opportunities to compete, perform, take dance exams and make life long memories.
Our classes aim to challenge dancers (as well as being lots of fun), encouraging every dancer to be their best and achieve their goals, whether in or out of the studio!
Meet our Principal!
Hi, my name's Caroline, and I'm the principal at Refresh Dance Initiative (RDI). Dance has been part of my world for decades and having taught dance professionally for over 20 years I'm incredibly excited to be bringing RDI to Sutton Sports Village.
As a teacher and choreographer I've been on countless dance (and gymnastic) adventures. Over the last 20 years I've headed up numerous dance programmes, as well as designing bespoke dance syllabus's for colleges and schools. I've trained professionals and choreographed for countless performances and competitions, winning Street Dance championships at a National level. I'm a Fellowship member of the IDTA (International Dance Teachers Association) and hold numerous professional qualifications; all passed with Honours.
The RDI ethos is 'Believe You Can', because I believe in you! My absolute favourite place to be is in the studio, dancing with my students. I encourage my students to find their own individual style whilst gaining confidence in and out of the studio; I'm also  passionate about providing opportunities to compete, perform, take dance exams and make life long memories. Refresh opens in September 2021, I can't wait to see you there!
Dance classes on offer
Urban Street
Dancers will learn the foundations of street dance and be introduced to Hip Hop, Breaking, Locking, House, Shuffling and Tutting techniques. 
Mini Street
Urban Street dance class for 4-7 year olds. Urban/Mini street encourages confidence and positive attitude, flexibility, strength, rhythm, co-ordination and groove. 
Fresh Feet
This class is dedicated to impressive footwork, fast heel and toe twisting/stepping, and having feet that appear to glide across the floor. It's technical, high paced, a great workout and brilliant fun! 
SEN class
Our SEN classes are tailored for children and young adults who have a physical, cognative, mental, sensory, emotional and/or developmental disability. We use music and dance to grow strength, performance, ability, technique and most importantly confidence. 
Commercial Dance
This style combines Hip Hop and Jazz techniques, and can be seen in music videos, commercials and West End shows. It's a highly choreographic form of dance and can include tricks too. Our classes also introduce students to Waacking and Voguing techniques. 
Waacking & Voguing
Want to feel like the Queen or King of the runway? Then this is the class for you! Waacking and Voguing are strong, sassy and empowering forms of dance. Learn fast arm movements, poses and unreserved confidence, whilst mastering coordination, precision and poise.
Music Video Refresh
Ever fancied being the star of a music video, then Music Video Refresh is for you. Each term we work on creating a well know music video. You'll learn fun and challenging choreography, and discover costuming, makeup, storyboarding, videography and much more.
Prices
Secure your space by booking online now. Classes are paid via a monthly direct debit - the cost is £27.63 per month - and once registered you will attend your  class at the same time each week.
If your child would like to attend more than one class per week, discounted monthly rates are available.
| | |
| --- | --- |
| NUMBER OF CLASSES | COST PER MONTH |
| 1 | £27.63 |
| 2 | £55.25 |
| 3 | £66.30 |
| 4 | £76.70 |
| 5 | £81.25 |
Activity Prices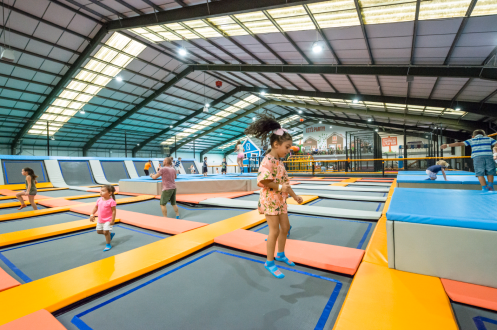 Looking to bounce and dodge into a heap of fun? You'll find a unique bounce facility with something for the whole family to enjoy. Children as young as 18 months are welcome, all the way up to adults.
Find out more
Sutton Sports Village also runs a selection of lessons & courses from Tennis, Gynastics and Football for a range of ages and abilities. 
Find out more