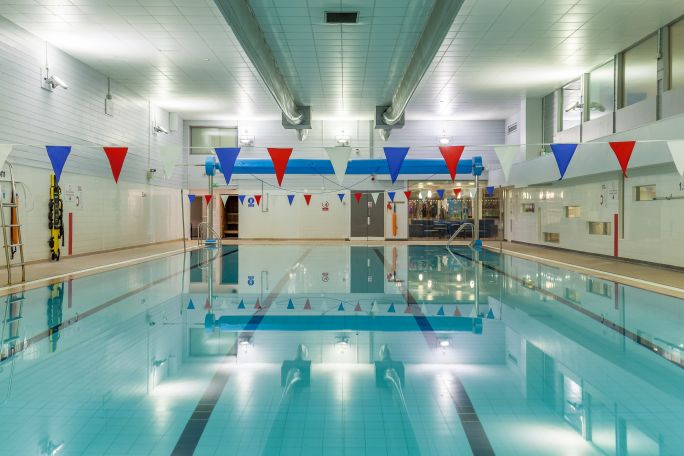 Swimming is great at any age.  Whether you want to improve your technique, get fit, meet new friends, compete or have fun, you're sure to find a pool session that you'll love.
The pool is 25 metres long, with up to 4 lanes, sauna, steam room and with village style changing rooms.
Swim safety rules apply. Floats and other swimming aids are available to purchase from reception.
Timetabled sessions include:
Swim Fit - A session aimed at swimmers 16 and over who want to swim in a laned environment.
Swim for All - This is a general swim for everyone - all ages and all abilities although swim safely rules do apply. Just come along at the times listed and enjoy your swim in our pool.
Water Workout - A typical water class would involve an invigorating workout that you would expect in a dry class, but because it's in the water it allows you to exercise without excess pressure on the joints and creates more resistance giving you an even greater workout.
Swim for 50+ - This is a swimming session aimed for the over 50's providing a great way to socialise and relax in a pool environment.
Better Swim School - Swimming is a key life skill and our structured Swim School lessons available for all ages and abilities. For further details please enquire at reception.
Adult Swimming Lessons - Group lessons exclusively for adults
Swim for People with Disabilities - A swim session for people with disabilities. Parents and carers are welcome.
Swim for Family -This is an ideal session for a family swim. You can only join this session if you have any combination of adults and children so makes it ideal for a family activity.
Birthday Parties - Birthday Parties in the pool.
Swimming Club - Coached sessions are available and new members are welcome for all ages and abilities. Contact reception for your local club information.
Schools - Schools operate lessons within our building and pool at specific times.