Why try windsurfing?
Take advantage of the great outdoors by trying windsurfing. Using your body weight to push or pull a sailboard in the right direction, this popular activity has a number of benefits, including: 
Mental benefits - get a wellbeing boost by being outside on the water, just don't remember to wear sunscreen!
Strengthen core - not only will balancing on the board work your core muscles, but you'll also use your entire body to manoeuvre the sails while engaging your core to keep you upright
Cardio - windsurfing is a great workout which will keep your heart pumping the blood around your body
Burns calories - as an adrenaline-pumped activity, you'll burn a huge number of calories battling the wind and waves
Doesn't feel like exercise - windsurfing is an exciting and exhilarating sport that more often than not, doesn't feel like exercise
What windsurfing equipment do you need?
We will provide all the equipment you need to enjoy windsurfing, including a fully-equipped rig (sail, mast and a boom), board helmet, wetsuit, lifejacket and shoes. Light-weight rigs and wide-style, extra-stable boards are available for beginners while improvers have the choice of smaller boards and bigger sails. 
Find out more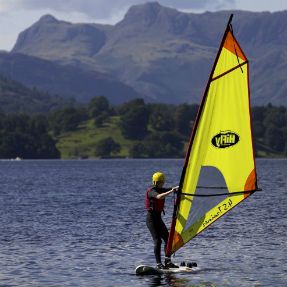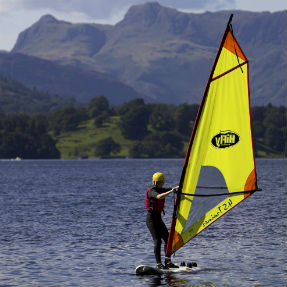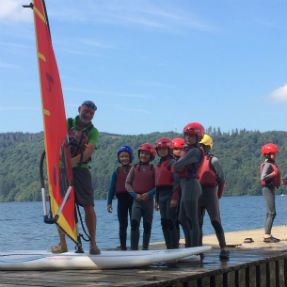 Windsurfing lessons
Whether you're a beginner or looking to improve your skills, our team of qualified instructors will help you enjoy and master this exhilarating sport. At our Windermere Outdoor Activity Centre, for example, we offer Royal Yachting Association (RYA) tuition and the following RYA Windsurf courses: 
Adult Start Windsurfing
Adult Intermediate Windsurfing (non-planing)
Youth Windsurfing Stages 1, 2 & 3
Windsurf Start Racing
Find out more
Taster, half day and full day windsurfing sessions
We offer a range of sessions for you pick from. You can book a taster session, which is a couple of hours, or learn the basics at a full day session. All taught by qualified instructors.
Find out more
Windsurfing courses
We offer regular five week courses throughout the season, which lead to RYA qualifications. In the weekly two hour sessions, you'll follow a more progressive learning style. Once completed, you can come and practice at our activity club sessions.


Find out more
You may also like