Covid-19: Latest information & service updates
On this page:
Updates on our services and guidance
Latest updates
Update 31st May 2020
Leisure centres - reopening plans
Reopening plans for our leisure centres will focus on ensuring we have safe, hygienic facilities that make the most of our unique indoor and outdoor spaces, ensuring we can give you plenty of space to use for your chosen exercise.

We are hopeful that some of our centres will be open from early July, but as you will appreciate the final timetable will be driven by the advice of the Chief Medical Officer and the government. We are also working with all other leisure centre and gym providers to develop safe, but customer friendly, systems of operation.

We have already reopened some of our outdoor tennis courts and golf courses with further plans to restart open water swimming in London during June – please check your local Better web pages for more details.
Allocated sessions
We need to restrict customer flow in each activity area to ensure social distancing and to ensure that you can have an allocated session so all sessions (gym, fitness classes and swim) must be pre-booked and prepaid online or via the Better UK app before you set off for the centre.

The advance booking horizon is being reduced to 6 days for prepaid members and 5 days for non members.

You must bring relevant proof of your booking to gain entry - and you will need to turn up on time (but not early!).

Gym equipment will be spaced out and different areas of the centre may be used to give everybody more space (eg: a squash court could be used as a stretch zone).

Where outside facilities exist at your centre, some of our classes may be outside in the fresh air.

Pools will have fewer but 'double' lanes. Swimmers will need to be respectful of other users right to social distancing.

We need to ensure a fair allocation of time for each customer so all sessions will be limited to one hour. The one hour slot will include the allowance for safe arrival, movement through the centre, changing and leaving the premises.

You will not be allowed to move from one activity to another activity.

No changing rooms or showers will be available except for swimmers.
Cleanliness and hygiene
We will have an enhanced cleaning regime.

There will be cleaning equipment by each gym station and we ask you to use it before and after each exercise. This includes wiping down exercise mats. 

There will be hand gel readily available which you should use before you touch any equipment. 

All customers should bring a clean towel with them.

You must exercise social distancing at all times and respect other users.
Membership payments
We have automatically frozen all membership and lesson/course payments so you do not have to pay while the facility is closed.

Annual memberships will be extended by the number of months the membership has been frozen.

When your centre is due to open, we will give you 10 days notice and restart your payments, you will be then able to book your activity as soon the 6 day 'booking window' opens.

If you are not ready to restart your membership yet then there is no need to cancel we will be extending the option to continue to keep your membership frozen until you're ready to return.

We will keep members updated via email once reopening dates are confirmed. Stay updated here.
Previous updates
Last updated 20th May 2020
Golf Courts
The UK Government has announced that golf will be able to resume in England on Wednesday 13th May 2020.

A framework for golfers has been produced by England Golf to ensure a responsible and organised return to playing the game.

Please be aware that not all our golf courses may be open. Please check before booking.
Read the framework for playing golf
Last updated 20th May 2020
Tennis Courts
In line with the Government guidance on public spaces and outdoor activity, the Lawn Tennis Association (LTA) have released guidelines for before, during and after playing tennis.

These guidelines currently apply to England only.

Better leisure centres and venues will need to make an assessment based on whether they can facilitate safe play in their facilities. Where they choose to remain closed please respect this decision.

Please be aware that not all our tennis courts may be open. Please check before booking.
Update 20th May 2020
Leisure centres and libraries
Following recent government guidance, our leisure centres and libraries remain closed. Whilst we are keen to re-open the facilities we operate at the earliest opportunity, our priority is to be a socially responsible business that puts the safety of our staff and customers first.

Membership payments for leisure centres, gyms and pools remain frozen while the facility is closed. View more information.
Outdoor recreation and activities
Update 20th March 2020
Temporary service closure

In line with Government instruction, we have closed all of our Better leisure centres, gyms, libraries, trampoline parks and spas across the UK until further notice.

The health and well-being of both our staff and valued customers is paramount. We have a social responsibility to everyone in the local community to take action to protect ourselves and others.

If you are a member of a Better leisure centre or gym, we would like to help you during this difficult time by automatically applying a payment freeze on all memberships. A payment freeze means that you retain your membership or lesson/course, but will not have to pay during the period that the leisure centre or gym is closed. That means, whether you have an annual, monthly, pre-paid or pay and play membership or lesson/course your Direct Debit payment will not be collected throughout this period.

We are working closely with local public health authorities and receiving all official updates from the Government. We will keep you up to date on what is happening going forward.
Stay updated
For the most up-to-date information:
Leisure Centre and Gym Members
We're re-opening
We're openng
* Include top-level information on leisure centre status, with a button linking to a page which shows which leisure centres are open, as well as opening hours and centre-specific USPs.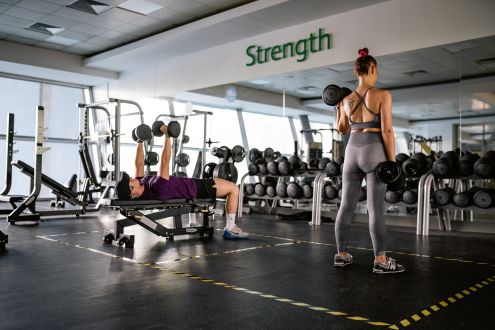 COVID-safe gym workout
article tbc
Memberships Information
Information on your membership
* Create a new section on the coronavirus page with details on how memberships will be affected.
* Add this into the page navigation headers with a jump link.
https://www.better.org.uk/memberships
https://www.better.org.uk/memberships/online-memberships
We have frozen all membership payments
Last updated 20th March 2020
Leisure centres, gyms, swimming pools remain closed.
We have automatically frozen all membership and lesson/course payments so you do not have to pay while the facility is closed.
This applies to annual, monthly, pre-paid, lesson/course and pay and play memberships.
You will be notified in advance of you or your child's membership unfreezing and, if you're on a Direct Debit, when your payments will restart.
We will do everything we can to support our members.
Your membership matters
Community is as important as ever right now and as a charitable social enterprise, we rely on the amazing support of members.
Without our valued members we would not be able to operate, and we would like to thank you for your continued support.
New members who join on a monthly Direct Debit, will benefit from no membership payments until your chosen leisure centre or gym re-opens.
Rejoin or choose a membership
Suspended Services
* Create a new section on the /coronavirus page with details on the services that are not currently running, such as lessons and courses and trampoline parks, as well as details on when these can be expected to resume. Potentially rename this so it conveys a more temporary message.
Information for library members
Libraries without walls
Our librarians are running an online programme of activities for children and adults – so follow your local library on social media for bed time stories, baby rhyme time and more:
Bringing the library to you
There are a wide range of online resources which cater for all age-groups and tastes. You can download great eBooks, eAudiobooks, eNewspapers and eMagazines and even eComics – all from your phone, tablet or desktop device. 
View online resources
Children's Centre Information
Discover our online programme
Our early years practitioners are running an online programme of activities for children – to discover the daily activities running on Facebook, search for your local children's centre here and click on their timetable.
Then follow your local children's centre on Facebook below:
Important resources for parents or guardians
How we are helping communities
More than ever, we are stronger together
Our facilities may not be open, but we are still here for you and our communities - whether that's by re-purposing our leisure centres for essential facilities, our incredible staff volunteering to support local initiatives, or donating personal protective equipment to the NHS and other much-needed public services.
Find out more
Better at Home
Better at Home provides members with free access to over 600 online classes, plus workouts of the week, nutrition and wellness information, and exclusive member benefits.
Better at Home virtual fitness classes give members a reason to keep their bodies and minds healthy, even when they can't get to the gym, pool or court.
The wide range of online exercises are suitable for all ages and abilities and can be accessed via the Better UK app.
Mention the support of people who are not able to come back to the gym yet and link to the Better At Home page.Mention the support of people who are not able to come back to the gym yet and link to the Better At Home page.
Access Better at Home for free
Copy of Community article
TBC
Staying Safe at Home article
Useful Coronavirus (Covid-19) resources