Introducing our little mermaids
As the largest swim school provider in the UK, Better is committed to helping children learn to swim. Read on to find out how our swim programme has improved the confidence and taught life skills to four young girls Aaliyah, Sophia, Cienna and Darcey at
Hillingdon Sports Complex
in West London.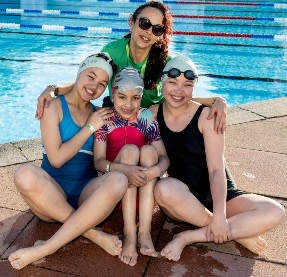 Sisters Aaliyah 14yrs, Sophia 12yrs, and Cienna 9yrs are all learning to swim at Hillingdon Leisure Centre in West London.
The reason they started swimming was because their mum wanted them to learn to swim. She had never learned as a child and recognised how important swimming is so that you're safe near water, on holidays or on trips with friends.  When one of the girls was unable to go on a school trip as it was only open to confident swimmers, it was a trigger for her to take action and book the girls into their local Better Swim School.
Cienna and Sophia started their lessons in October 2021 while Aaliyah started a little later in April 2022. With lessons every Friday, they are all now confident swimmers quickly moving up the grades.
What's more, they feel free and happy in the water and love their lessons. 
Not only has it been fantastic to see Cienna's confidence grow in the water and other aspects of her life, she can't wait to jump in the water.  
Aaliyah, the eldest sibling, talks about how being in the water benefits her mental health, she loves to swim and it helps her to feel calm and relaxed.
Learning to swim has had a hugely positive impact on all the girls - it's something they all love, are exercising, keeping healthy and growing in confidence. 
All the girls hope to keep progressing with their swimming and move up into the Better swimming academy, for more advanced swimmers.
Darcey James, 9yrs
Darcey James, 9yrs, also comes from a family of non-swimmers. Her love of the water was spotted on a family holiday to Barbados when she was about 3yrs or 4yrs old. Darcey may not have been a non-swimmer at that point but she had no fear of the water and was ready to jump in!
Since Darcey's uncle Adam works at Hillingdon Leisure Centre in West London, he arranged a two-week intensive swimming course for his niece in 2021. Not only did she excel in the water but it quickly became apparent that she had a natural affinity with being in the water.
And now she attends weekly group lessons where she continues to progress.  She absolutely loves taking part and is a talented swimmer, who always has fun in her lessons. She is very keen, and wants to continue progressing through the grades, perhaps all the way to the Olympics!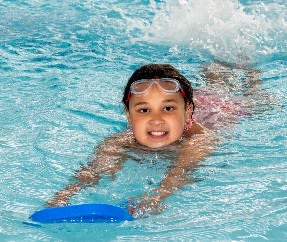 You may also like