Yoga for Everyone
It doesn't take more than a glance over Google image search results for the term "yoga" to start questioning your ambitions and suitability for yoga. Although very inclusive as a practice itself, the way yoga is represented in the Western world can lead to wrong conclusions that it is only for flexible, fit, white women.
At the very beginning, yoga used to be an all-male practice but today it is completely the opposite – yoga classes are dominated by women, and men don't generally consider yoga as their go-to exercise. In fact, Better data suggests that only one fifth of those attending yoga classes at Better centres across all age groups in the UK are men.
To debunk stereotypes around yoga practice and challenge Google's current image search results for the term "yoga", we interviewed yoga teachers of different ages, backgrounds and genders and asked them to share their yoga story with us.
It's time to meet the real yogis.
Practice yoga on a daily basis
Raised in India, Ravi started his yoga experience at the age of 9 when his grandfather started teaching him to chant mantras and practice yoga. He realised very early on that yoga is going to be an essential part of his life.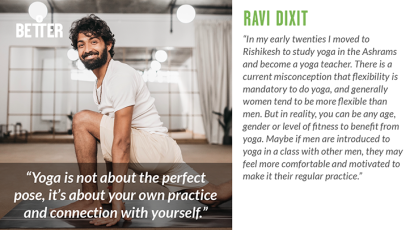 Yoga helps manage stress
Robin started yoga at the age of 14 and got her yoga teacher qualification when she was 16 years old. She was introduced to yoga and meditation by her dad who recommended it to her as a way to deal with stress at school, studying hard and bullying.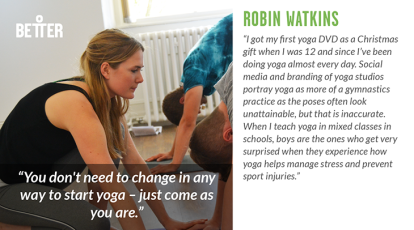 Yoga truly welcomes everyone
There is no a specific age bracket to enter the world of yoga – yoga truly welcomes everyone, whenever you feel like it. After attending a yoga class with her friend, Debra loved the feeling of calmness and relaxation that it brought to her and years after decided to train as a teacher.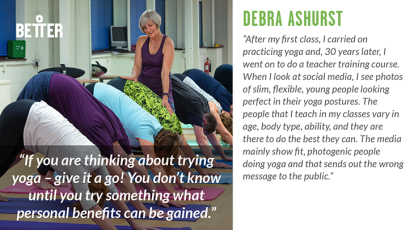 Forget preconceptions and assumptions
The main obstacles to entering the world of yoga are the wrong perceptions of the practice on social media and assumption that you need to be extremely flexible to do it. However, yoga practice is blind to age, body types and flexibility. Charlie started practicing yoga as a kid, even before she knew what it was, with her childhood friend whose mum was a yoga teacher.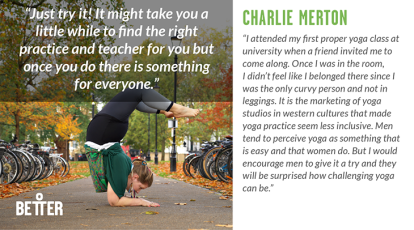 Find a style and teacher that you like
There are men who actively practice yoga and find it a great source of physical exercise. Harry started with his yoga practice at the age of 54 when he was looking for something he could offer within the course for endurance runners he is teaching.
Improve your fitness with yoga
There are many different types of yoga out there – from Hatha and Ashtanga, to Yin, Strala and hot yoga, but this is just a short list with countless other types available to explore. Also, teaching styles vary, suiting different bodies and personalities and there is something for everyone's individual needs, it's just a case of discovering it.
Judy started her yoga practice when she was 18 years old and she still remembers how impressed she was with the teacher, proving how teachers can make a profound impact on your yoga practice.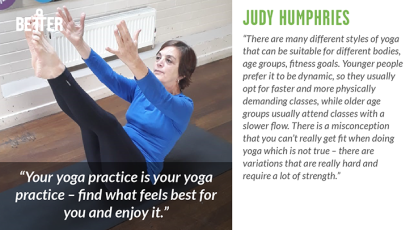 Yoga can completely change your life
An encouragement to start your yoga practice can come from a friend, family member or you can simply discover it yourself. However, some of the yogis we chatted to started their yoga practice as a source of good exercise and mental strength after an injury.
Samantha started actively practicing yoga after she broke her leg.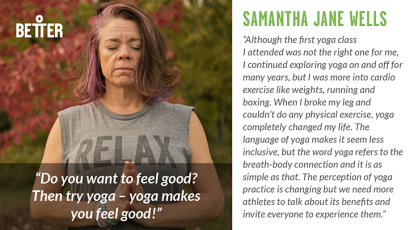 You can practice yoga anywhere
Andrea discovered the world of yoga after being diagnosed with osteoarthritis and having a hip replacement.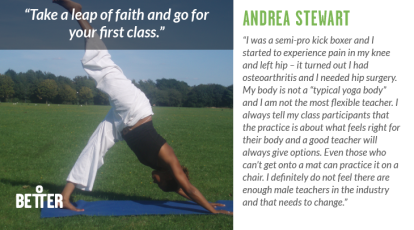 There is no pre-requisite for doing yoga
Jeannie was working in a busy office environment and enjoyed running marathons. It was 1999 when she completed New York City marathon which used all of her energy. She didn't feel like she could run anymore so she decided to try going to the gym instead.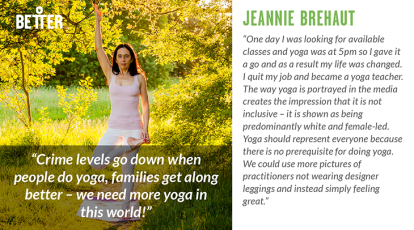 By now, we hope you see that in the yoga world, there really is something for everyone in spite of how it's portrayed by the media and more. Young, old, curvy, skinny, flexible or not-flexible…there are no labels when it comes to yoga. The only thing these yogis encourage you to do is to give it a try and find what works best for your body and fitness goals. So, what are you waiting for? Give yoga a go today.
Join us in demonstrating that yoga is truly inclusive by sharing your yoga experience with us by using hashtag #BetterYoga.
You may also like