Find a Mind & Body Class Near Me
Feel Better Inside and Out
Whether you're looking for a strength and balance-building Pilates class or want to feel the benefits of a low-impact cardio workout with a Tai Chi session, our Mind and Body classes will help you feel revived and refreshed.
New to exercise? Our Mind and Body Basics classes involve a range of  exercises for beginners, seniors or those looking to build their confidence in the gym and boost their fitness.
So, whether you're looking to improve your mobility or add time for meditation and reflection into your daily routine, these group low impact workout classes are a great option for everyone, no matter your ability level.
From Yoga to Mindfulness, take a look at our Mind and Body classes to find the right low impact fitness class for you.
Our Mind and Body Classes
Our basics classes
Build the right foundations with our Adult Basics and Junior classes. 
Our Adult Basic Classes combine simpler movements, like stretches and core strengthening exercises. Suitable for beginners and seniors alike, these classes are ideal for those new to fitness or returning to the gym after a break.
For Juniors (aged 11-16), you'll find Junior Classes, which are specifically designed for teenagers wanting to build their confidence and foundations of fitness in a friendly community.
"There is a misconception that flexibility is mandatory to do yoga… But in reality, you can be any age, gender or level of fitness to benefit from yoga." – Ravi, a Better Yoga teacher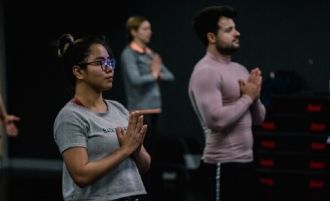 The Benefits of Mind and Body Classes
Sleep better – Get a good night's sleep by regularly attending classes that include gentle exercise and meditation time, like Yoga.
Stress less – Feeling stressed out? Low impact cardio exercises releases endorphins in your body. And when combined with mindfulness techniques helps you reduce stress levels and relax.
Improve your mobility – Most of these low impact fitness classes involve stretching and flexibility exercises, which can boost your mobility and help you gradually get stronger and fitter.
Become part of a community - Meet like-minded people in a friendly and welcoming environment at our group Mind and Body classes.
Ready to start feeling better inside and out? Book a Mind and Body class today through our website or via the Better UK app. 
You may also like