Find Yoga Classes Near Me
Why yoga?
Whether you are looking for beginner yoga classes, pregnancy yoga classes or hot yoga classes, you'll be able to find a variety of sessions that will help you feel better inside and out. So embrace the flow of natural body movements to develop strength, flexibility and a peaceful state of mind. From energetic routines to slow, serene sequences, our classes balance movement and meditation. Search yoga classes near me above to find out more. 
The health benefits of yoga classes
Yoga is a mind-body workout that flexes and strengthens joints and muscles as you go. You can burn around 280 calories per hour in a standard session, whereas our Hot and Floatfit yoga classes burn almost  double that amount. From yoga classes for beginners and prenatal yoga classes to hot yoga classes, you'll find local yoga classes at your Better leisure centre. 
Give yoga a try and feel all the better for it. Here are some of the main benefits of yoga:
Build a stronger core and work your muscles from head to toe
Achieve a meditative state of mind and greater wellbeing
Relieve aching joints and muscles
Encourage your body's natural healing abilities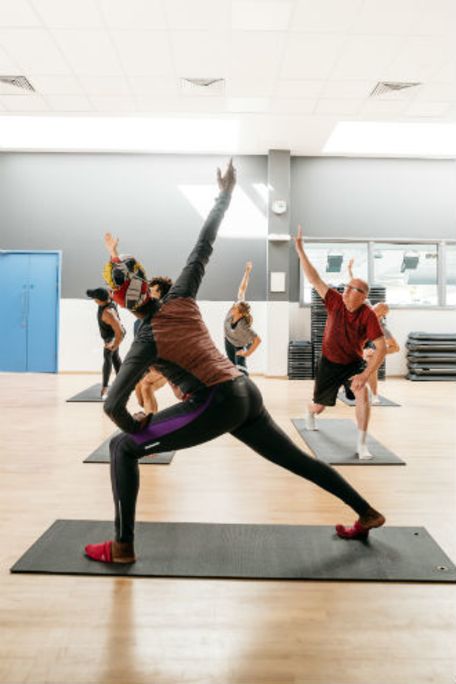 Our yoga classes
We have classes for all ages and abilities, including yoga for beginners, more intensive hot yoga classes, pregnancy, parent and baby yoga classes.
Level 1 Yoga classes for beginners
Are you new to yoga? Our yoga classes for beginners will help you loosen up and let go. We will take you through a restorative routine of poses and sequences. Whether you can hold a pose or can't touch your toes, these classes are the ideal starting point for beginners as well as more experienced yogis. Search yoga classes for beginners near me to find out more. 
Yoga classes equipment
Mats, blocks and other Yoga equipment are provided by the centre, but if you want to use your own mat, that's fine by us. Move comfortably in your yoga class by wearing light, stretchy and supportive clothing, or have your swimming kit handy if you're participating in Floatfit. A towel will be handy for those humid hot yoga sessions, and please bring a bottle of water to class with you, which you can fill up around the centre. You can also try a number of other fitness classes at your local leisure centre. 
You may also like