STAY FIT WHILE HAVING FUN WITH FAMILY AND FRIENDS
Badminton is a great recreational sport that will keep you fit and allow you to socialise with others at the same time. It's usually played on an indoor court and it's really easy to pick up, so beginner or not, this is something everyone can do. Badminton rules are easy, using racquets players hit a shuttlecock to pass it across a net to the other side. Badminton can be played by two players only 'singles' or 'doubles with two players on each side.
At Llanishen Leisure Centre we have six Badminton courts available to book across the week with 40 and 60 minutes options available. Don't have a racquet? Don't worry - we have your back, at our centre you can rent Badminton equipment free of charge. Enjoy your game!
COURT BOOKING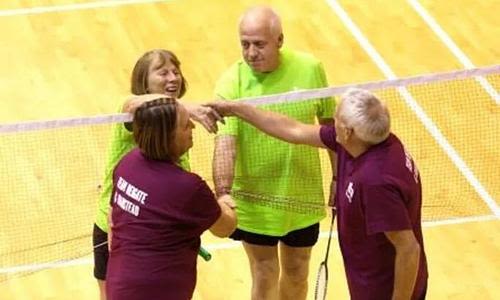 Over 60's Badminton
Playing badminton is a great way to have fun and stay healthy, whatever your age or level of ability. Our Over 60's Badminton sessions welcome new players, with friendly staff and fellow players ready to help beginners. What's more, if you haven't got a racquet, you can hire one!
Llanishen Leisure Centre holds Over 60's badminton sessions at the following times:
Mondays 9am - 12pm
Wednesdays 9am - 12pm
Fridays 9am - 12pm
BOOK NOW