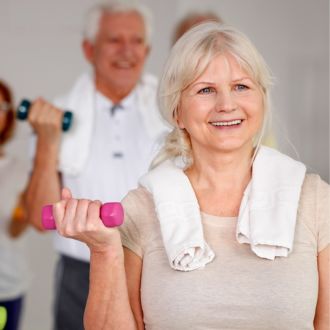 Our Seniors at Kentish Town like to feel a part of our existing programme when it comes to fitness, we take pride in all our classes being as accessible as possible and our instructors are always ready with alternative exercises if required. However, this does not stop our existing Senior members from having their favourite classes which are
Aqua Aerobics
Pilates
Tai Chi
Yoga
Book Now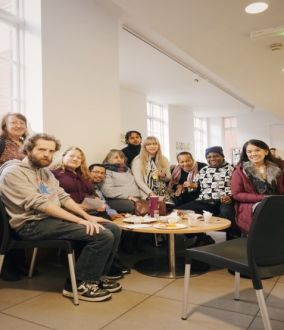 Community
At Kentish Town we Pride ourselves in being a part of our community and making our leisure centre as accessible as possible. This is achieved through our timetable and sessions we run with our local partners. We have worked with Organisations such as Age UK and more recently have a strong partnership with North London Carers Social Club to deliver monthly social clubs for older people in an attempt to combat social isolation and keeping older people active. This consists of Coffee mornings and Latin ballroom dancing which all the community loves.
For more information on how to get involved please email Camden@GLL.ORG
We offer free swimming for Camden residents aged 60+ on a pay as you go membership at Kentish Town Sports Centre, Swiss Cottage Leisure Centre, Oasis Sports Centre and Pancras Square Leisure, on weekdays between 6.30am and 12pm.
If you have limited mobility and find accessing the pool difficult, we have a Poolpod in our Grafton Pool & a hoist in both our Willes Pool & Grafton Pool. Please speak to a member of staff or visit better.org.uk/lp/pool-pod to discover more.
For more information on any of the above activities, please email KentishTown@GLL.ORG or speak to a member of staff in one of our Better Camden centres.
Book Now
Our Gym is inclusive to everyone and is divided into different sections the weights area, stretch area, resistance machines and cardio machines. Cardio machines (which raise your heart rate) such as rowers, bikes, cross trainers and treadmills can be used to improve your overall fitness.
Resistance machines and weights can be used to improve your overall strength. All of our weights and weight machines start at a very light weight, so no matter how strong you are, you'll be safe to use them. We also have a functional space equipped with all the space and equipment to fulfil your needs
*Pre Paid members do not have to book the Gym
Book Now
If you are unsure of how to use equiptment or need some new insipration our fitness instructors will be on hand to put together your own personal workout programme, if you'd like them to. Workout programmes are free of charge if you're a pre-paid member.
Refocus sessions are available to you at any time, where our fitness instructors can change your programme to suit your progress. Varying your workout and keeping it challenging will mean you're more likely to stick to it and reach your goals.
Book Now

Better 60+ programme

Location

Time

Day

Activity

Instructor

Kentish Town

10.15am-11.15am

Monday

Yoga

Laura

Kentish Town

11.15am-12.15pm

Monday

Pilates

Laura

Kentish Town

1.15pm - 2pm

Monday

Aqua Aerobics

Penney

Kentish Town

8.15pm-9.15pm

Monday

Yoga

Tony

Kentish Town

8.15am-9.15am

Tuesday

Yoga

Scott

Kentish Town

6.15pm-7.15pm

Tuesday

Pilates

Arvin

Kentish Town

9.15am-10.15am

Wednesday

Tai Chi

Sean

Kentish Town

9.15am-10.15am

Thursday

Yoga

Ulrika

Kentish Town

1.15pm-2.15pm

Thursday

Aqua Aerobics

Vaneese

Kentish Town

7.15pm-8.15pm

Thursday

Pilates

Arvin

Kentish Town

9.15am-10.15am

Friday

Pilates

Laura

Kentish Town

10.15am-11.15am

Friday

Yoga

Laura

Kentish Town

11.15am-12.15pm

Friday

Tai Chi

Sean

Kentish Town

2.15pm-3.15pm

Saturday

Yoga

Ulrika

Kentish Town

4.15pm-5pm

Saturday

Aqua Aerobics

Rhian

Kentish Town

9am-10am

Sunday

Yoga

Susann