Book a birthday party near me
Hassle-free kids' parties
Throw them a party to remember at a Better leisure centre in Croydon. From soft play to swimming and basketball, we'll do the hard work for you at a Better leisure centre near you. Book the activity and we'll sort invitations, party hats, catering, and even clear up after. So you can sit back, relax and enjoy the fun and games.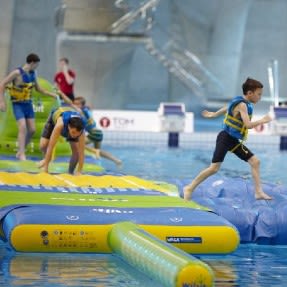 Swimming party
Enjoy the water and play games safely in a pool near you. Naturally, all our pools have fully-qualified lifeguards on duty. 
Football party
Choose a winning party that they'll enjoy by organising a football match with friends at a Better location in Croydon. 
Multi-sports
Can't decide? Hire a sports hall for your kids' birthday party, where they can play a number of sports and have fun together.  
Soft play party
Let them party and get them active with foam fun at an indoor playground for your little ones at a Better leisure centre. 
Basketball party
Get them to shoot some hoops and hang out with a basketball birthday party as a Better leisure centre in Croydon. 
Tennis party
Choose a party on court at a Better leisure centre in Croydon. Let them play together and enjoy tennis. 
You may also like
Download the Better UK app to pre-book your visit. View our step by step guide to creating your booking account, FAQs and more.
Learn more
Follow the Better Instagram account to stay motivated, be inspired, learn tips and become a part of our ever-growing community. 
Follow us