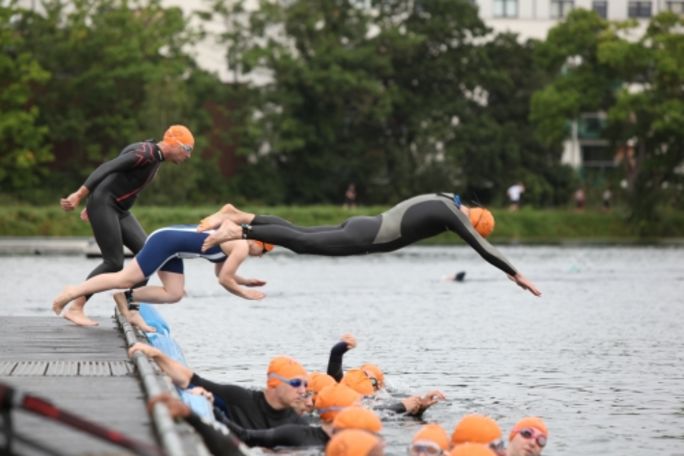 Will restart Spring 2020 
West Reservoir Centre is a unique water sports facility that offers open water swimming in the centre of London in the Borough of Hackney.
The first open water swim session in 2019 will be Thursday 2nd May 2019.
In response to customer demand, from 1st July 2019 we are introducing additional open water swimming sessions on Monday evenings from 6.30pm to 8.30pm. Our Thursday, Saturday and Sunday sessions will continue as normal. 
2019 OWS programme
Monday 6.00pm to 6.30pm - Last swim 7th October  
Thursday 5.30pm to 6.30pm - Last swim 10th October  
Wednesday 7.00am to 8.45am - Last swim 23rd October
Saturday 7.30am - 9.30am  - Last swim 26th October
Sunday 7.30am - 9.30am  - Last swim 27th October
 
Evening sessions will shorten when the nights draw in and light diminishes. Swimmers need to be checked in 30 minutes before the end of each session.
You'll need to be minimum of 14 years old and have done an induction at the centre.
Cost per swim
West Reservoir Membership Card - Free
Better Membership Card (other centres) - £5.00 entry
Non-Members - £10.00 entry    
  We have lockers available - 20p required for use.
 OWS Inductions
All members and non-members must complete an induction before attending the general swim. A wetsuit is mandatory for the induction.
 Inductions
New swimmers must book an induction online. This is a one-off course and will not require repeating unless you have a significant break from swimming at the reservoir, ie 3 years or more. Inductions take place on Monday evenings only. The cost is £15. Once you have completed an induction, booking is not required for a swim, just turn up and check in at reception.
Please note, we now have a small selection of wetsuits in various sizes available for hire at £10 per swim. Please ask at reception on arrival.
Our last induction this year will be 2nd September 2019. 
To book an induction CLICK HERE 
See above timetable for end of season dates