Our fitness class timetable offers a variety of options suitable for everyone. Whether you want to increase your heart rate, build strength and endurance, or enhance your balance and flexibility in a calming environment, our extensive range of classes led by expert instructors has everything you need.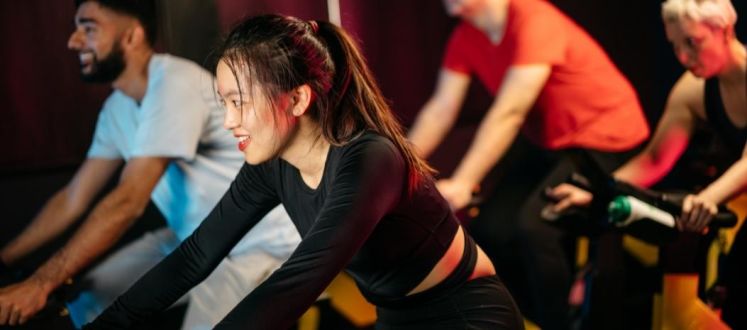 Cardio Classes
Join our fast-paced, high-energy classes to get your heart pumping and improve your health and cardiovascular fitness. These classes are also great for burning calories and losing weight. Let's move together to feel better!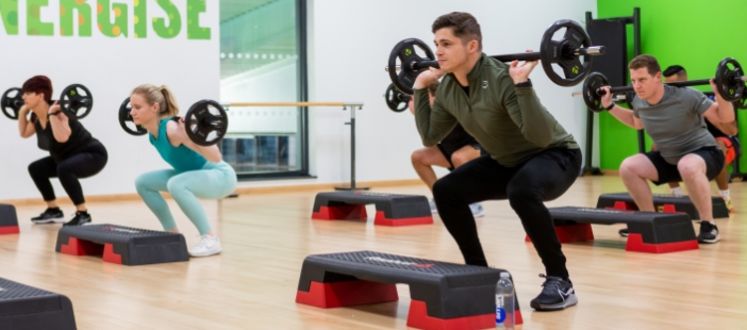 Strength and Conditioning classes
Achieve a stronger and better version of yourself by participating in our strength and conditioning classes. We offer a variety of motivating group activities that can help you strengthen and condition your entire body.
Discover our range of Cardio classes
HiiT 
High Intensity Interval Training, or HIIT, involves short bursts of intense exercise followed by brief rest periods. This workout is known to be highly effective for burning calories and improving cardiovascular performance. Get ready to work hard during this class!
Group Cycle 
Are you prepared to get your heart rate up and burn some calories? Our Group Cycle classes offer a lively and motivating atmosphere to help you achieve your fitness goals.
Step Aerobics 
Step aerobics is a fun and energetic fitness activity that involves performing choreographed routines on an elevated platform called a step. It combines aerobic exercise with strength training and coordination. Participants step up and down on the platform using various movements and patterns that target different muscle groups and increase heart rate. Step aerobics is perfect for a dynamic cardiovascular workout while improving balance, endurance, and overall fitness.
Discover our range of Strength and Conditioning classes
Core Conditioning 
Improve your strength and posture through our Core Stability fitness class. This class is low-impact and utilizes innovative equipment and your own body weight to help you develop a stronger core.
Body Conditioning
Our Total Body Conditioning classes offer an exhilarating and challenging workout that combines cardio and body conditioning. With high-energy routines, you'll be motivated to keep coming back for more.
Circuit Training
Our Circuit classes provide a challenging workout that delivers exceptional results. The class is centered around high-energy interval-style training, which is intended to push your physical limits and enhance your strength, endurance, and stamina.
Power Pump 
Prepare to feel empowered and strong after participating in this class. Power Pump utilizes studio weight plates and bars to concentrate on resistance training with lighter weights and higher repetitions, which will boost your endurance and leave you with an unforgettable pump.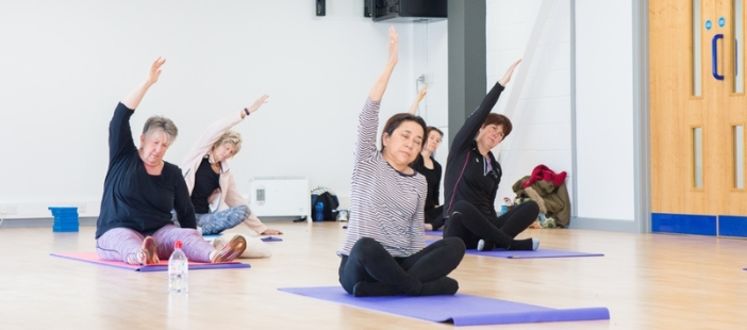 Mind & Body classes
Discover a better you with our classes designed to boost your physical and emotional wellness. Our low-impact sessions are perfect for improving strength and flexibility while leaving you feeling revitalized. Join us today!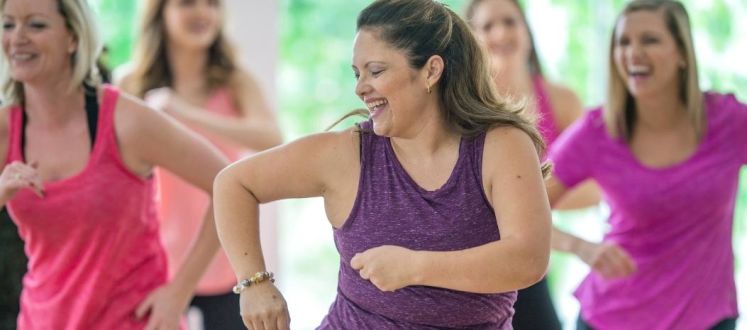 Dance classes
Joining dance fitness classes is a fantastic way to achieve your fitness goals while having fun and feeling great. These exhilarating group workouts involve dancing to music that will make you sweat and leave you feeling happy.
Discover our range of Mind and Body classes
Pilates
Our Pilates class is perfect for enhancing the strength and flexibility of your core muscles. The serene and soothing environment of our studio adds to the overall experience.
Yoga
Join our Yoga classes to practice traditional and energetic yoga poses that promote relaxation, strength and overall well-being.
Mindfulness 
Our classes emphasize the importance of focusing on the present moment and using your mind to overcome obstacles. Our instructors will guide you through breathing exercises and stress-relieving techniques that can help you maintain good mental health.
Discover our range of Dance classes
Zumba
Zumba is a fitness program that merges dance, aerobic movements, and lively Latin and international music beats. It is a fun and engaging way to improve cardiovascular endurance, tone and sculpt the body, and get in shape. People of all ages and fitness levels can participate, and no prior dance experience is necessary. Joining a Zumba class is an enjoyable way to burn calories, boost energy levels, and tap into your inner dancer.
Dance Fitness
Looking to dance? Join our Dance Aerobics classes for a fun and dynamic workout with new choreography and exercise routines every week to keep you motivated.