SENIOR ACTIVITIES AT HATFIELD SWIM CENTRE
Our Seniors (over 66) activities are not only designed to keep you fit and active, they also provide a great opportunity to socialise and meet new friends. The activities are aimed at getting you out of the house and to make sure you are having fun and keeping healthy at the same time. You'll receive great support from our professional and friendly staff who will help you achieve your best.
Regardless of your age, joining a gym can be an intimidating experience. Whether you're unfamiliar with the equipment, you're struggling with your body confidence or this is your first time signing up – there are plenty of reasons why you may have your reservations.
At Better, our mission is to make fitness accessible to everyone, meaning that removing anxiety around exercising is one of our top priorities. That's why we've introduced the following to make our gyms safe spaces to exercise with peace of mind:
ACTIVITIES
Swimming is a great way to improve your fitness and overall well-being without putting too much strain on your body. At Hatfield Swim Centre, we offer Swim for Fitness sessions that are suitable for people of different abilities and speeds, with slow and fast lanes available. If you're looking for a more leisurely swim, we also have Swim for All sessions that allow you to unwind and enjoy the water. Our facilities provide a comfortable and refreshing environment for your swimming needs.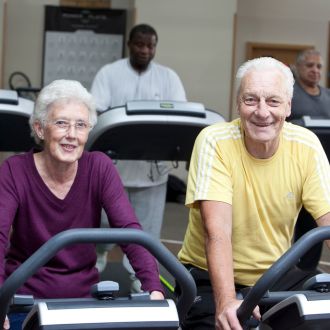 Maintaining physical health and staying active is crucial as we grow older. Our senior members have access to a friendly and well-equipped gym that we are proud to offer. Our qualified staff provides support to seniors, and we offer various gym inductions to ensure that they feel confident and safe while working towards their fitness goals. Regular exercise has been proven to have significant benefits for seniors, including improved balance, increased mobility, and a lower risk of chronic illness.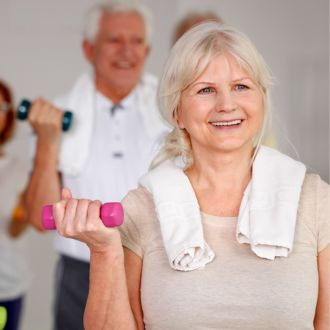 In addition to our regular fitness classes, we offer a specially designed classes called Basics. These classes are perfect for beginner seniors, providing a safe and supportive environment to start or continue your fitness journey. Whether you're looking for a calming and relaxing class like Yoga, a heart-pumping HIIT session, or a muscle-strengthening Body Conditioning workout, we have a variety of options available to meet all your health and fitness needs.
Timetable
Swimming
For our swimming sessions we have easy access to our main pool with steps that gradually go into the pool from the shallow end to a depth of 1.0meters.
The times for Swim for Fitness sessions that would be great for our senior swimmers would be the follwing:
Monday-Friday: 7:00am-10:00am (Whole pool, lanes 1-6)
Monday-Friday: 10:00am-4:00pm (x2 lanes, deep water)
Fitness Class
If you are new to the gym and looking for a slow paced class then we currently offer a Basic Circuit Training fitness class on the following day:
Class: Basic Circuit Training
Day: Friday
Duration: 45mins
Instructor: Manny 
This class is on the gym floor based in our functional area.
Tea & Coffee social mornings are also avaliable at Hatfield Leisure Centre in the Shapemaster suite!
Days: Tuesday & Saturday
Time: 10:00am-12:00pm
WHY CHOOSE A BETTER HEALTH SENIOR MEMBERSHIP?
If you're 66 and over and looking to get more active, our Better Health Senior Membership allows you to access our range of gyms, swimming pools and fitness classes, all at a competitive price.
Offering gym memberships that empower everyone to take charge of their fitness, our Better Leisure Centres hold sessions tailored specifically for those over 66.
At Better, we believe that staying socially active is just as important as staying physically active – at any age. Offering you the opportunity to meet new people and grow friendships near you.
And if all that isn't enough, as Better is a not-for-profit organisation, all proceeds from your membership fees are reinvested right back into your local community, enabling us to make fitness more accessible for everyone.
*Note minimum age eligibility of 66 applies. Please check the membership criteria on the join site for more detailed information.