Men's Mental Health, Social Media Pressures, and the Power of Exercise
We all know the importance of physical activity for good mental health and we are big advocates for the positive benefits a healthy lifestyle can bring. However, we also know that not everything in our industry can be positive, and the consistent competitive nature of the fitness industry as well as the sometimes troubling realm of social media influence in this field can take their toll on our mental health. In light of the relentless expectations associated with being a "real man," we conducted an in-depth exploration of male mental health and how exercising helps process everyday struggles.

We spoke to over 2,000 men living in the UK and surveyed them about the impact of fitness influencers, social media, and their attitudes towards exercise to explore men's own body image and the image of their own masculinity, as well as the positive benefits health and fitness can have
Exercise and men's mental health in the UK
According to our research, 96% of men agree that participating in sports and exercising positively benefits their mental health. It also revealed that two out of every five men experienced a notable reduction in stress levels after engaging in physical activity. Interestingly, this effect varied regionally, with stress reduction ranging from 50% to 31% in different parts of the country. 
Men also agreed that exercising reduced their anxiety and/or depression (35%), and increased their self-esteem (34%). Three in every 10 men also said they found it easier to concentrate and felt more focused after working out. 
Interestingly, our research suggests that exercise may also play a crucial role in managing anger and aggressive behaviour among men. Men have previously reported [1] responding to their mental health concerns by 'acting out' and portraying their worries through anger. However, the study found that a quarter of men who engage in regular exercise reported that it helped them channel and release their aggression. 
Notably, the benefits differed across various categories of physical activity. For instance, 21% of men participating in individual sports acknowledged exercise as an effective way to process their anger, while a higher proportion of team sportsmen (28%) agreed with this sentiment. Team sports also foster a sense of community and socialisation, with a significant 25% of men expressing that participating in team sports encouraged them to engage with others.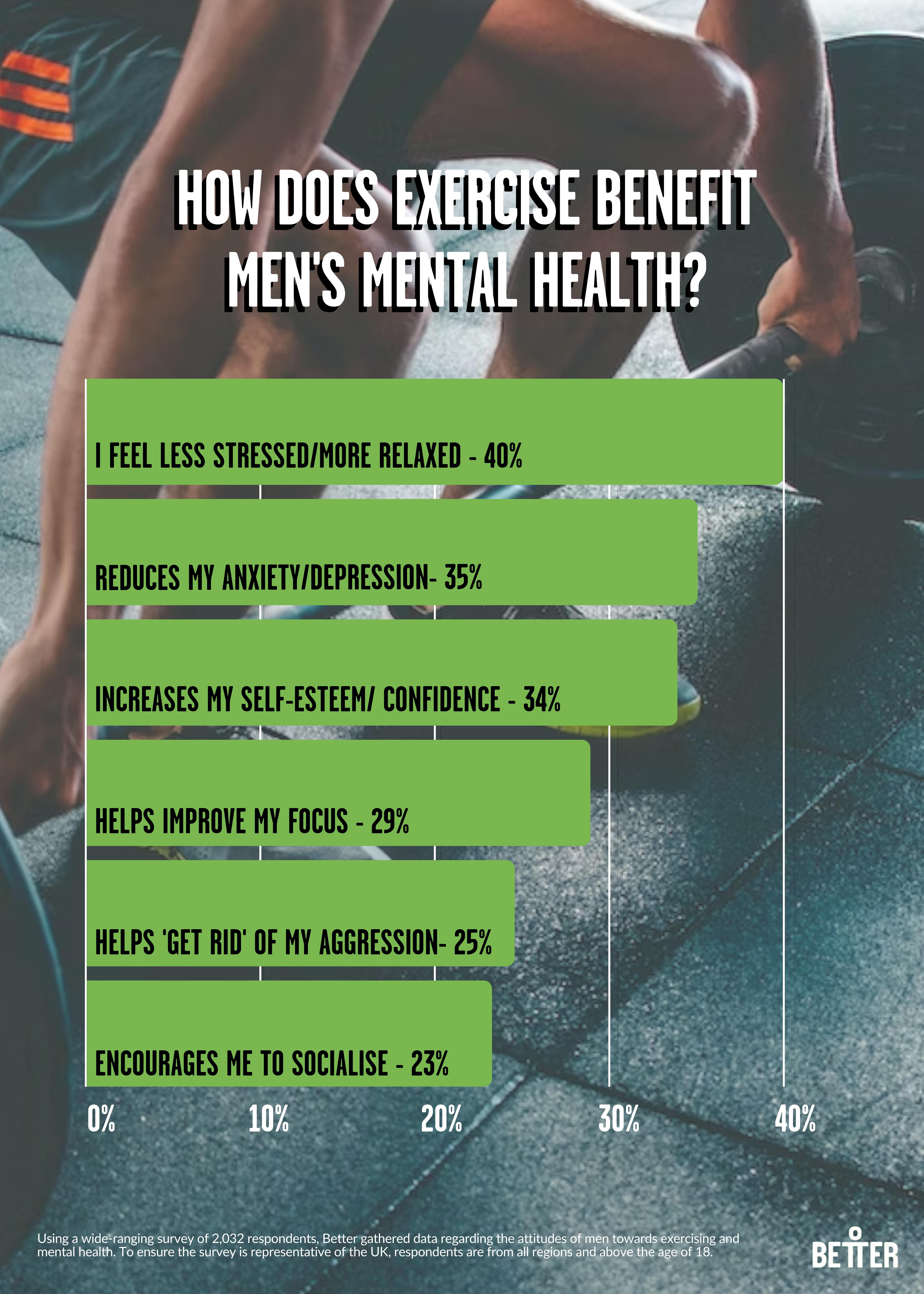 Men, mates and mental health
With men being widely assumed to battle struggles alone, we wanted to know how many were checking in with their friends. Nearly half of men (46%) agreed that they check in with friends about their mental health, which is highest in the 25-34-year-old category, reaching 58%. This was lowest for those aged 55+, with only 26% agreeing they do so. The fitness community seems to encourage this behaviour, as 49% of those participating in individual sports and 57% of those participating in team sports support their friends. This drastically halved to 28% of those not participating in sports/exercise, highlighting the connections sport promotes. 
However, when we asked respondents if their friends check-in on their mental health, this reduced to 38% overall and reduced across the ages and categories too. With some men still struggling to speak up, many turn to online communities where anonymity is on their side. Over a quarter of men (26%) said they speak to people online about their mental health, perhaps because it is easier to discuss with strangers. 
Nearly three in 10 (29%) men agreed that online communities had helped with their mental health, reaching four in 10 amongst 25-34-year-olds, who seem to be the most open to discussing their mental health. Those participating in team sports were also more likely to reach out to people online (34%) and benefit from online communities (40%), despite typically having more support from their fellow sporting friends.


Social Media Pressures and Body Modifications
When it comes to social media, it is clear that the online world is wielding a powerful influence on how men perceive their own bodies. We found how a shocking two-thirds of men surveyed stated social media impacts their body confidence in some way, with one in five feeling pressured to look a certain way. So, it may come as no surprise that almost half of the men surveyed agreed they would consider or have had some type of body modification, with more than one in ten (12%) agreeing this is a direct result of social media, increasing to 19% amongst 16-24 year-olds. 
The most popular surgeries were teeth veneers (16%) and hair transplants (12%), however, a shocking one in 10 16-24 year-olds consider getting leg lengthening surgery, a radical surgery to grow between three and six inches that can set you back nearly £70k. One in 10 24-35-year-olds would also consider a full jaw reconstruction, and 8% would undergo penile augmentation. 
Younger generations suffer more from online influence
Young men seem to be most affected by social media, with 16-34 year-olds being most affected by images online. 31% of 25-34-year-old men stated they feel pressured to look a certain way because of online images, and 30% of 16-24 year-olds also agreed with this. 27% of both age categories stated they often compare themselves to those online, and 25-34 year-olds were most likely to delete social media, with a fifth saying they had done so to protect their mental health, closely followed by 16-24-year-olds at 19%. 
A previous Body Confidence study we conducted, scraped through the top 1,000 posts tagged with the #bodypositivity hashtag, finding over 83% of all posts were made by or featured women, compared to just 10% featuring men. It's no secret that social media is full of unrealistic body standards for men too, especially with the rise of Love Island, where men are surrounded by bulging biceps and washboard abs. 
According to our study, nearly three-quarters (73%) of men are self-conscious about at least one area of their body, whether this is due to social media or not. When asked what part of their body they were most self-conscious about, nearly a quarter (23%) said abs. Perhaps unsurprisingly, close behind was the chest (16%) and arms (12%), both parts that men feel extra pressure to grow. 
We spoke to Darren Pearce, 28, about how exercise has improved his body confidence and how he combats low moments:
''I used to get really in my head about comparing myself to other men on social media, I think it's normal for us boys. I enjoy going to the gym with my mates making new friends there, and it's definitely a community feeling, but I still feel pressured to be big and look a certain way because of social media even though I always feel better after a workout.
"I've found the best way to combat my low points are to take a look at my progress pictures. I keep these at arms reach so I can look at them whenever I'm struggling, it's just one reminder of how far I've come and always gets me back on track.''
Influencing men online
Being controversial to go viral on social media is not a new idea, but how much is this influencing the younger generations? We asked those surveyed what personalities have influenced their views on health and fitness most, specifically listing a combination of 'positive' and 'negative' influences. Tyson Fury was the most popular overall, influencing almost a fifth of men, increasing to a quarter for 25-34-year-olds specifically, while The Rock followed in second place with 16%, again being most popular amongst the 25-34 age range.
Troubled social media personality Andrew Tate was found to be the most influential among the 16-24 age category, with 29% admitting he had influenced them or someone they know. A recent YouGov survey[2] also discussed this, reporting 27% of 18-29-year-old men had a favourable view of Andrew Tate and two-thirds (64%) of those with a favourable view agree with Tate's views on masculinity and what it means to be a 'man'.
On the other hand, footballer Marcus Rashford was named as a more positive influence and came in third place as most influential, while Mental Health Ambassador and former Love Island contestant, Dr. Alex George, came much lower on the list, with only 5% of British men stating he'd influence them.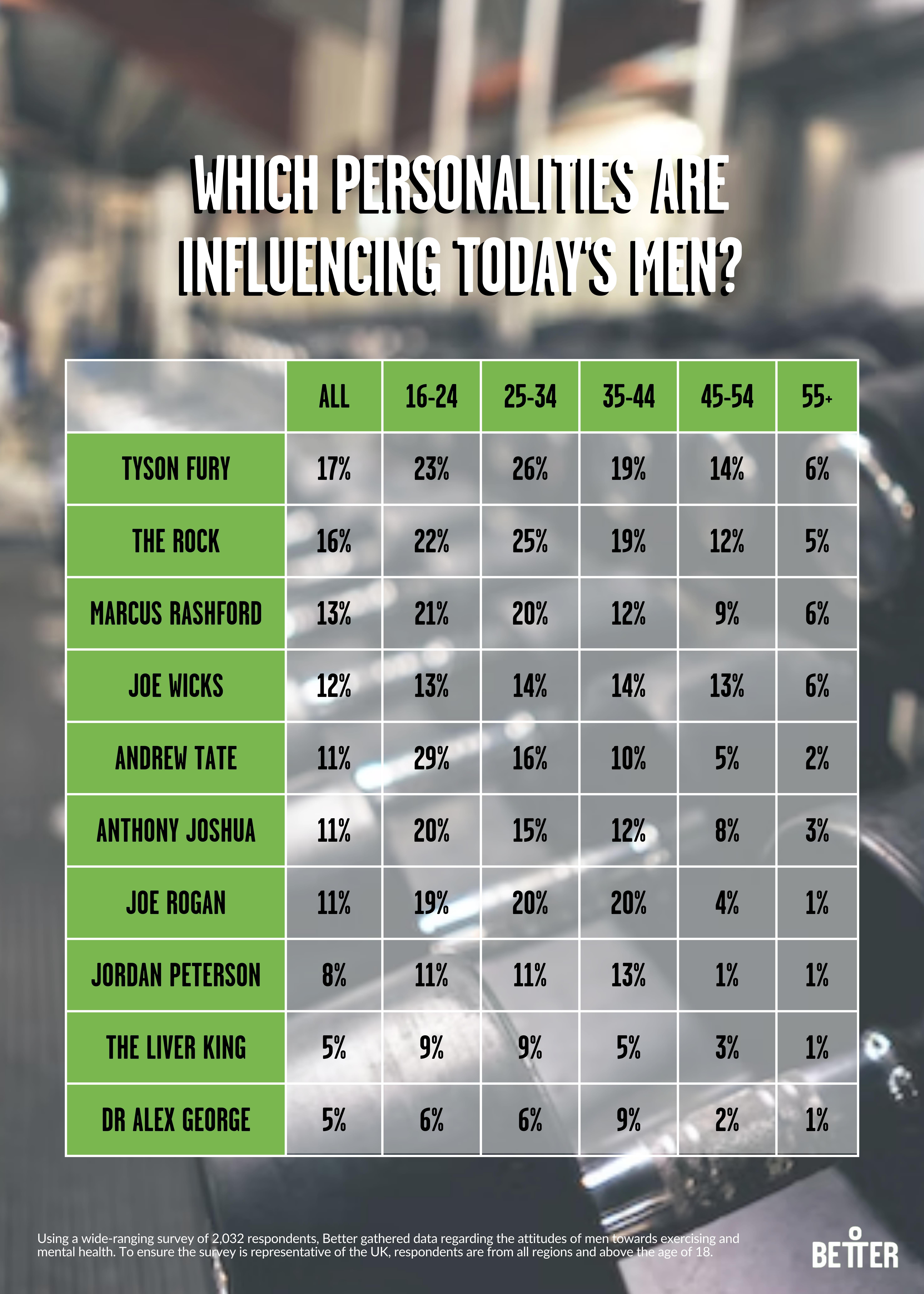 In summary
As we can see, social media and those who have large followings on these platforms have a real life impact on the minds - and even bodies - of men across the UK. Whether it's influencing how they think they should look and behave or troubling their mental health generally, it's clear the potential impact online discourse can have. While we know exercise and healthy fitness regimes are positive elements in this balance, there is a lot that needs to be done to ensure men's mental health, body image, and awareness are getting the attention they deserve.
Methodology
Using a wide-ranging survey of 2,032 respondents, Better gathered data regarding the attitudes of people towards exercising and mental health. To ensure the survey is representative of the UK, respondents are from all regions, all genders and above the age of 18. 
Numbers based on the population of the UK, age 16 and above.
Sources
[1]https://www.mind.org.uk/media/6771/get-it-off-your-chest_a4_final.pdf
yougov.co.uk/topics/society/articles-reports/2023/05/23/how-many-britons-agree-andrew-tates-views-women
You may also like