Get support with your first time starting the gym
Whether you're brand new to working out or getting back into exercise, attending a gym induction will help you start your fitness journey the right way.
From training advice to equipment tutorials, our qualified trainers will walk you through everything you need to know to make the most of our gym facilities. Plus, they'll be on hand to answer any questions, helping you create foundations for future workouts.
Ready to get started? Keep reading to learn more about our gym induction process and how you can book your session*.
* The price of Better's gym induction depends on your membership type. Please ask a member of staff to confirm your membership benefits. Full members; please make sure to opt in during your registration to receive your personalised induction.
Why have a gym induction?
While gym inductions aren't mandatory, there are plenty of benefits to attending a session. These include: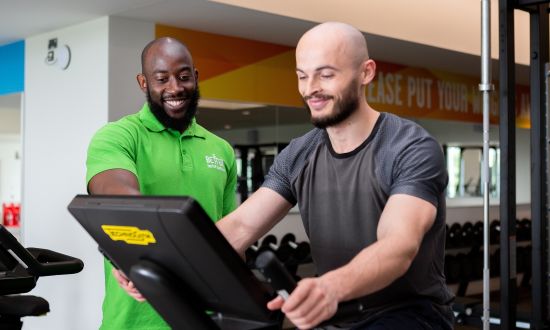 Avoiding injuries – with a qualified trainer showing you how to use all the equipment and weights, you can learn the proper techniques, reducing your risk of injury.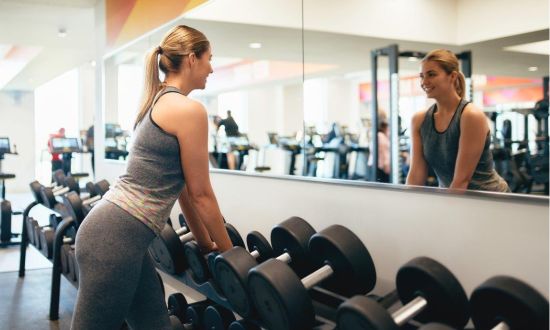 Getting a confidence boost – if you're a beginner, just getting to the gym can be intimidating. By attending a fitness induction, you'll see how to make the most of the space and be able to ask any questions, leaving you empowered to start your journey.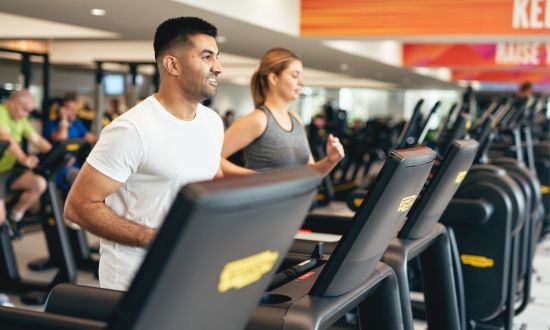 Becoming familiar with the space – if you've exercised in another gym before, it can still be a good idea to go through an orientation as different gyms may have different facilities and equipment.
What to expect at your gym induction
When you arrive at the gym for your induction, you'll be greeted by one of our qualified fitness instructors. Before getting started, you'll have the chance to talk about your current fitness and any goals you have, such as improving your general fitness, so your trainer can tailor their advice and help you get the most out of the session.
Next, your trainer will explain some basic health and safety measures before moving on to a tour of the facilities.
Your fitness coach will then show you how to use the equipment and weights safely to avoid injury and meet your goals, and they may also walk you through some gym etiquette tips (like wiping down machines after you've used them). If you're booked in for a Total Induction, your fitness instructor will then write you a tailored programme to help you achieve your goals.
You'll have plenty of time for questions along the way so don't hesitate to ask.
Find your nearest Better gym
Better gym inductions: 3 steps to success
Joining a gym is a huge step for most of us and attending an induction at the gym is a great start to your fitness journey. To keep your momentum going, we've developed a '3 steps to success' gym induction process so you can access expert support every step of the way and keep meeting your goals.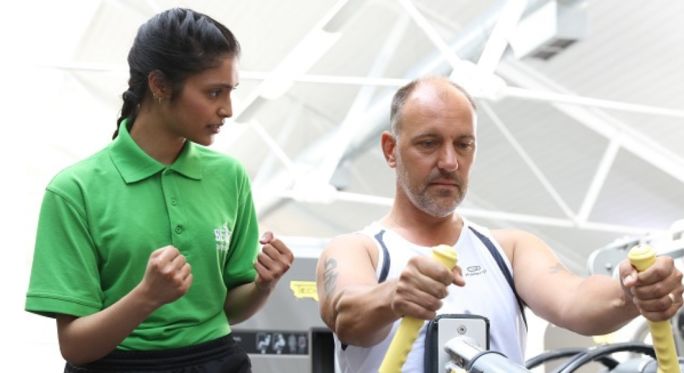 Joining a gym is a huge step for most of us and attending an induction at the gym is a great start to your fitness journey. To keep your momentum going, we've developed a '3 steps to success' gym induction process so you can access expert support every step of the way and keep meeting your goals.
Step 1: Let's get started
First things first, you'll start your journey with a fitness induction. 
After your 1-2-1 consultation with one of our expert instructors, your session will be tailored to your needs. If you're new to visiting the gym, your trainer can spend the session giving you an orientation of our equipment to help you feel confident and create your fitness programme to get you ready to achieve your goals.
For the more experienced, you have the option of fast tracking and getting straight into the action, learning how to use the facilities to meet your individual goals.
Step 2: Refocus your session
Once you start visiting the gym regularly, to help you stick to your aims and keep moving forward successfully, we've designed the Refocus Sessions.
Every 4-6 weeks you'll have the opportunity to re-evaluate your progress with your fitness expert. You'll assess what's going well, what could be improved, plus any likes and dislikes about your experience so far.
Your fitness coach can then give you more tips and advice, help you improve your technique or adapt your training plan moving forward, keeping you on the right track.
Step 3: Get your free personal consultation session
If you're a Better Health member, you can book a free Personal Training consultation with our parnter, YOUR Personal Training. *
After your refocus sessions, seeing a personal trainer can help you really get to grips with your goals and understand how to achieve outstanding results throughout your gym experience.
Your complimentary Personal Training consultation is designed by our qualified Personal Trainers, and after an initial assessment, your instructor will provide fitness advice. Here are some examples of what you can expect as part of your appointment: 
Postural Analysis
Fitness Testing
Functional Movement Screening
Intensive Exercise Session
Current Program progression
Nutritional Advice
Exercise Frequency Planning
Exercise Goal Setting and Analysis
Lifestyle Advice
Visit YOUR Personal Training to book your session.
*This service is offered at selected centres. Please check with your local centre or fitness instructor before starting.
Meet our professional trainers
Our gym inductions are led by our team of professional trainers, ready to offer advice and support throughout your fitness journey.
All our gym coaches are passionate about helping people lead healthier lifestyles. They're all Level 2 qualified, meaning they have the right expertise to help you overcome your challenges and guide you in the right direction. 
From offering nutrition advice to finding an exercise plan that you can stick to, our expert trainers and coaches are here to help.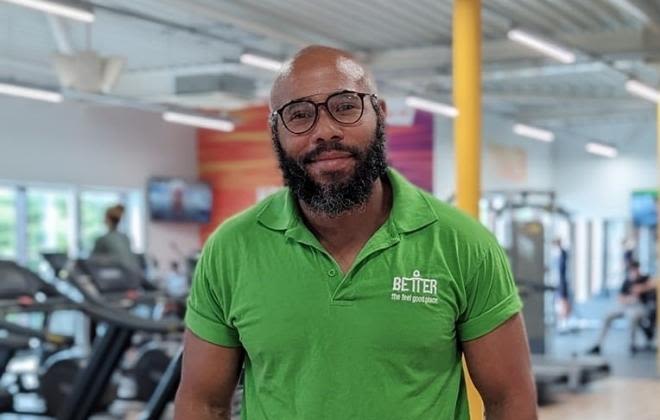 "Fitness for me is a lifestyle and being able to share this passion with others has been an incredible blessing. My job not only keeps me physically active but also allows me to grow socially, explore diverse cultures, and gain fresh perspectives from working with a wide range of individuals. The journey is a constant learning experience, with every day bringing new insights."
"A while back, I had the privilege of mentoring a young athlete during Junior Gym sessions who aspired to become a football player in the United States. I provided guidance and support, helping him work toward his dream. It's very rewarding to see how far he's come; he was eventually offered a scholarship at a university in San Francisco.
I've come to realize that you don't always have to be the star of the show. Sometimes, the true joy lies in empowering others to achieve their goals and find happiness. Witnessing their accomplishments brings a profound sense of satisfaction and fulfillment. Fitness isn't just about personal achievements; it's also about helping others on their journey to success." - Stephen a Better Fitness Instructor
GP referral scheme
As part of a social enterprise, we're here to improve the wellbeing of everyone in our communities and one of our main missions is tackling health inequalities. That's why we're part of joint partnership projects between NHS trusts and local Council authorities to break down barriers to physical activity.
Depending on your needs, you might be able to access one of our health schemes following a referral from your GP. These include:
Cardiac Phase III/IV Rehabilitation
Adult Weight Management Courses
Family Weight Management and Healthy Lifestyle Courses
Musculoskeletal Courses
Health Checks Activity Pathway
Falls Prevention classes
Chronic Obstructive Pulmonary Disease (COPD) classes
Cancer Rehabilitation 
Mental Health programme
Diabetes awareness programme
Aquatics for Health and Stroke Rehabilitation
Book your gym induction today
You can book your gym induction via our website or the Better UK app.
To make a booking on the website:
Visit our 'Book Activity' page
Find your nearest Better centre
Select 'Gym Inductions' to see timetables and availability
Click 'Book' on the timeslot you want and log in to complete your booking
On the Better UK app:
Log in and find your nearest Better centre
Select, 'Book Activities', then select 'Gym Inductions' to see timetables and availability
Click 'Book Now' on the timeslot you want and follow the instructions to complete your booking
If you're a Better Health member, you can book a fitness induction up to seven days in advance at no extra cost.
Gym induction FAQs
How do you get an induction at the gym?
Whether you're a member or not, everyone can book a Better gym induction. See our booking steps above or get in touch with your local gym to secure your session.
Do I need an induction for joining the gym?
You don't have to complete a gym induction to use our gyms, but we recommend all our gym-goers book one to learn how to use the equipment and reduce your risk of injury.