Welcome to our Kids Fitness Programme
Our new junior strength and conditioning programme is for kids aged 4 to 11 years in partnership with Brand X MethodTM ,the world leader in youth fitness education.
This is a new type of membership designed specifically for children. Our programme is inclusive to allow all levels and abilities to take part.  We promote a positive environment and celebrate each child's progress and development be it big or small.
What have we identified?
Children are moving less and less in daily life.  This has created a real problem with muscular imbalances during the formative years of their growth.
Around 1 in 4 children aged between 2 and 10 in Northern Ireland are now classed as obese or overweight.
There is a direct link between childhood inactivity and health problems in adulthood.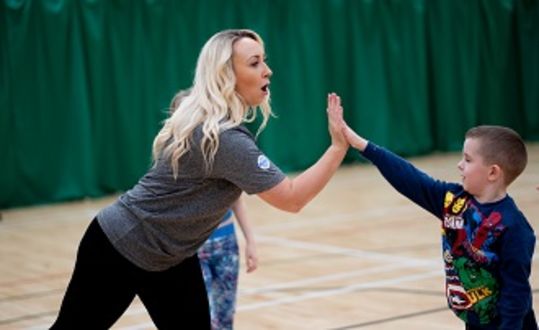 We have created the Better Kids Fitness Programme in partnership with the Brand X Method. 
These coached sessions cover a wider range of activities and movements including gymnastics, cardiovascular fitness and strength.  Kids will build a stronger foundation of agility, balance and coordination and through time progress through to strength training.
How does the membership work?
The membership is divided into two age categories:
4 to 11 year old participants which entitles them to one class per week and access to junior gym, swimming and racquets across Belfast. 
11 to 17 year old participants which entitles them to two classes per week and access to junior gym, swimming and racquets.
A typical session will include a warm-up, skill development, conditioning and games.
Sessions will not only increase physical literacy and athletic capacity, but take into account the whole child and introduce mental health through play and resilience training.
All of our coaches are trained to the highest possible standards and hold The Brand X MethodTM Professional Youth Coaching Certification.
Where do sessions take place?
The Kids Fitness Programme membership is available at the following Better centres in Belfast;
Hear from our qualified coaches
At the heart of this programme is encouraging a sense of adventure, passion and joy in kids and teens when playing their favourite sports, trying new things and tackling life's challenges so they can step out of the gym or sports hall environment knowing they can do whatever they set out to do.
Plus coaching kids is a great feeling, especially when you make it fun for them to learn. -Chelsea, Brand X Method coach.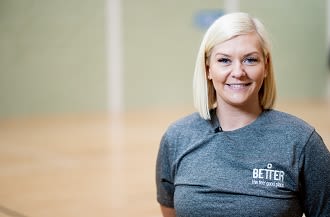 Foundation – 4 to 8 Age Group
Kids will develop their fundamental movement skills and explore the building blocks of agility, balance and coordination disguise through fun and engaging game activities.
Sessions will last 35 minutes.
Development – 8 to 11 Age Group
Kids will explore and hone their physical literacy through engagement in skill development and game activities.  Sessions will cover elements of gymnastics, cardiovascular fitness, strength and flexibility.
Sessions will last 35 minutes.
Academy – 11 to 17 Age Group
Kids will progress to strength training to develop their athletic capacity.  Sessions will provide participants with the ability to physical perform to their potential in their chosen sport or physical activity.
Sessions will last between 45 minutes to 1 hour.