What are Health, leisure and fitness jobs?
Health, Leisure and fitness jobs are all about the day-to-day running of community services - from leisure centre managers to fitness coaches, there are a range of careers in fitness, leisure and sports to choose from.
Whether you're a recent graduate or are planning a career change, there are usually a mix of junior and senior leisure centre positions. These roles are ideal for anyone with industry experience or a degree, HND or foundational degree in a relevant subject. For fitness and exercise related careers specifically, you may also be expected to have relevant qualifications in your chosen sport. If you have no experience in this area, an apprenticeship or graduate scheme can be another good route in.
At Better, we offer a range of leisure and fitness jobs suitable for everyone. As the UK's largest charitable social enterprise, our purpose is to improve the physical, mental and social wellbeing of local communities and make a healthy and happy lifestyle accessible for everyone.
Our Health, fitness and leisure centre jobs are all about helping provide better services for the community so that people can enjoy staying active. So, whether they're involved in the admin that goes into running our centres, teaching people of all ages to swim or planning out a series of fitness classes, our staff are at the heart of our offering and help us make a positive impact on people's lives.
Browse vacancies
Advice for how to start a career in leisure and fitness
At Better, we know that applying for a job in a new field or industry can be a stressful and daunting process. That's why we've put together a series of blogs filled with leisure and fitness careers advice. These guides cover topics like the different leisure job opportunities there are, leisure and fitness careers advice and how to get a job in fitness.
"I am thoroughly enjoying my role as a General Manager and couldn't thank GLL more for giving me freedom, support and training to run a Better Leisure Centre as my own. The highlight has to be seeing my team members progress by developing their skills and following their passions." – Sera, General Manager
What will I learn in a career in health, leisure and fitness?
Whether you're working in a leisure or sports role, you'll develop a number of transferable skills. These could include:
Organisation
Time keeping
Leadership
Decision making
Working in a team
Interacting with customers
These skills will help improve your job prospects and aid your career development through the leisure and fitness industry. Jobs to do with fitness and coaching may also help you earn industry-related qualifications. These can help you develop your career and increase your leisure job opportunities in the future.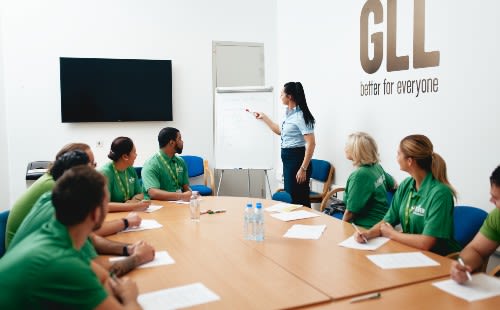 ''Each morning when I wake up and have a shift I smile, as I know I am going to be working with great people to serve our customers. Seeing toddlers smile after their soft play session, Children in their lessons, adults in the Gym and seniors enjoying their swims. I know I've played my part to make our communities thrive with their fitness goals.''- Kai, General Assistant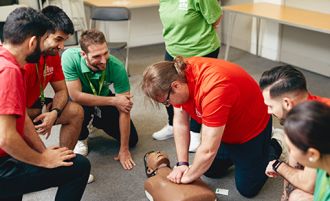 Why should I apply for a leisure centre job at Better?
Whether your interests lie in planning and admin or motivating people to achieve a new personal best in the gym, there are plenty of leisure job opportunities at Better centres throughout the UK across different departments.
Community is at the heart of everything we do and our leisure centre staff are essential in helping us improve our services so that everyone can enjoy a healthy and active lifestyle.
In return, we like to look out for our people and their personal development, helping our employees grow and develop as they work with us. As a Better employee you'll also be entitled to a benefits package which includes a pension scheme, subsidised gym and leisure membership and the chance to complete industry-related qualifications.
If you're ready to start your career in fitness, leisure and sports take a look at our current vacancies to see which leisure job opportunities are available and apply today. 
Current vacancies
We are an inclusive employer that seeks and values diversity within our team and welcome applications from all backgrounds. 
Frequently asked questions
How do I choose the right leisure job for me?
There are many leisure job opportunities and roles, and picking the right one can be a challenge. To help you make this decision, try and get some industry experience in the department you're most interested in. This could be through an internship or volunteering placement.
You can also take a look at the job description and see if the required skills and/or qualifications match up to your own.
What qualifications do I need to get a job in leisure & fitness?
If you're wondering how to get started in the fitness and leisure industry, you'll need different qualifications depending on which position you apply for.
Fitness related careers often require specific qualifications, like the NPLQ for lifeguards, whereas more leisure-based roles may ask for a relevant degree or plenty of work experience. If you don't meet the criteria for the job you want to apply for, completing an industry-related training scheme can help boost your job prospects in the future and get your career in the fitness industry started. There are also roles open to entry level candidates with no previous experience.
Where are leisure jobs in the UK?
Since fitness and leisure jobs are typically based at leisure centres, you should be able to find roles across the UK. At Better, we offer jobs at our centres across England, Northern Ireland and Wales so you can find a role wherever you live.
You may also like
Find out everything you need to know about graduate schemes and careers with Better.
Learn more
Leisure based qualifications are available for those looking begin their career within the leisure industry.
Find out more