Find a Basketball Court Near Me
PLAY BASKETBALL WITH BETTER
At Better we have a wide range of basketball facilities and activities to choose from, whether you're a beginner or pro.
Basketball has many benefits. It involves a lot of starting and stopping, keeping you active at all time. While not renowned as an aerobic sport, it is still a great workout that can help you:
Cardiovascular Health
Burns Calories (an hour of basketball can burn 630–750 calories)
Builds Bone Strength
Boosts The Immune System
Provides Strength Training
Self-Discipline
If you're new to the sport, we offer lessons and courses taught by qualified instructors, as well as special Reach and Teach sessions for young people, developing life skills through sport. 
With 82 basketball courts available to book, you're sure to find an affordable facility near you.
LEARN TO PLAY

In partnership with Reach and Teach, Better provide basketball lessons and courses are at 14 Better leisure centres across London and the West. This enables children and teenagers aged 6-15 years to learn the skills of the game and develop their performance level.
With our wide range of courts you can play your way, so get a bunch of your friends together and book a court today.
Book a court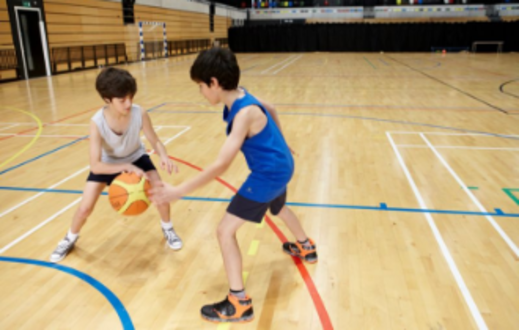 Community Basketball League
The Community Basketball League is the largest grassroots league in London, with over 100 competing teams across the capital and available to a whole range of age groups from U12 to U25. So if it's competition you're after, this is right up your street.
YOU MAY ALSO LIKE