Bodmin Leisure Centre are very proud to be Cornwall's only indoor tennis centre, with 3 indoor courts and 4 floodlit outdoor tennis courts.
We welcome players of all ages and abilities. Whether you are club standard, returning to tennis, or complete beginner, we have something for you. We offer a comprehensive range of tennis activities, from court hire to individual coaching and also group coaching for junior and adult players.
TRY TENNIS
Whether you are new to it or didn't play tennis for a while, our Try Tennis taster sessions are a great choice for anyone interested to start playing tennis. Those sessions are available for adults and juniors and can be booked at the reception desk.
Prices:
Adults: £9.50 and Juniors: £7.50
JUNIOR TENNIS COURSES
Give your child an opportunity to become a future tennis star. Whether a beginner or an improver, our Learn programme is designed to suit everyone. See below available groups with dates and times available.
Tots Tennis 3-5
Tots Tennis (3-5 years)
Children and parents will work together on sending and receiving skills, simple racket and ball work, balance, movement and coordination.
Monday 4pm - 4.45pm
LTA Youth Start Courses 4-11
Perfect introduction to tennis! LTA Youth Start is for children aged 4 - 11 years old who are new to tennis.
The players receive 6 fun active tennis coaching sessions, Tennis Racket & balls, a t-shirt and wristbands. Each child will receive attendance stickers and a certificate of completion. Course cost is £29.99 plus (£5 p & p)
Please visit the LTA website for more information: READ MORE 
Learn Ages 5-8 (LTA RED)
During this stage they will learn the fundamentals of tennis whilst playing on a smaller court with smaller rackets and softer balls. This allows them to develop key skills such as forehands and backhands whilst being able to rally with the coaches and their peers. 
Days and times available:
Monday 4pm - 5pm
Tuesday 4pm - 5pm
Thursday 5pm - 6pm
Friday 5pm - 6pm
Saturday 9am - 10am
Learn Ages 8-9 (LTA Orange)
Mini tennis orange is a great way for players to progress from mini tennis red. The court will be bigger than red stage but still not full sized. Mini tennis orange allows players to develop a more rounded game and start learning basic tactics before progressing onto a full size court.
Days and times available:
Monday 4pm - 5pm
Monday 5pm - 6pm
Wednesday 4pm - 5pm
Saturday 9am - 10am 
Learn Ages 9-11 (LTA Green)
Mini Tennis Green is played on a full size court with bigger rackets but the balls are still slightly softer then normal yellow balls. During Mini tennis green players will start developing all aspects of their game on the full sized courts.
Days and times available:
Monday 5pm - 6pm
Wednesday 4pm - 5pm
Friday 4pm - 5pm Squad (Invite Only)
Saturday 10am - 11am
Learn Ages 11+ (LTA Yellow)
Players are using full sized tennis courts and full yellow tennis balls. At this age the emphasis on tactical and technical development around match related skills.
Days and times available:
Monday 6pm - 7pm (Invite Only)
Wednesday 4pm - 5pm
Thursday 4pm - 5pm (Secondary School Session)
Saturday 10am - 11am
Internal LTA Youth Matchplay Sessions 6 - 11
We offer matchplay sessions for our players, who can attend and put into practice their coaching. These sessions are invite only. If you would like to know more please email Bodmin.tennis@gmail.com
Ready to become a future tennis star?
BOOK NOW
ADULT TENNIS COURSES
Designed for adults that would like coaching and learn the various techniques and tactics. These courses offer better coach / participant ratios and the focus is on the needs of the group. Sessions will test your abilities on games based coaching drills.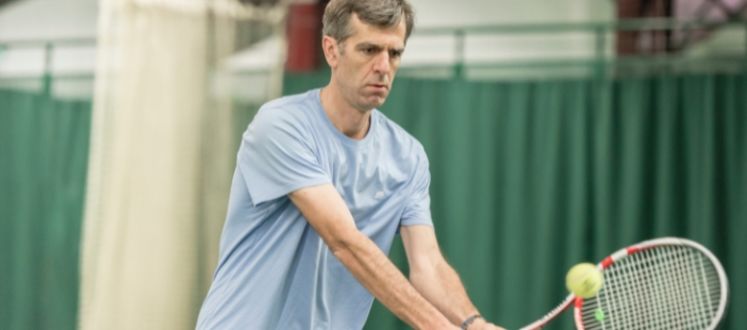 LTA Tennis Xpress: Adult Complete Beginner Course
A fun and social group coaching course which helps adult beginners to get into tennis. Tennis Xpress teaches the foundations of the game so that you can enjoy fun matches with friends, family or other people you meet. Under the guidance of an LTA Accredited coach, you will be taught new skills and shown how to serve, rally and score.
Learn Adult Beginner Courses
Suitable for players starting out or returning to tennis. Our aim is to build your confidence as a player with lots of coaching on all the main strokes (forehand, backhand, volley, and serve) and get you playing tennis!
BOOK BEGINNER COURSES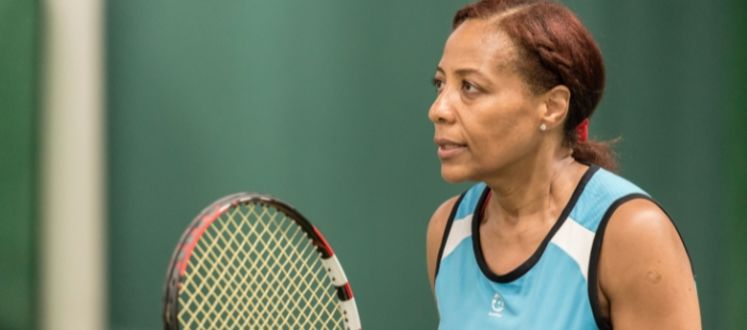 Learn Adult Improver (Lower)
Players who have progressed from a beginner course developing their technical and tactical knowledge. Players should be able to sustain a rally from baseline and net, play and score, that know their way around a tennis court.  
Learn Adult Improver / Advanced
Players can rally consistently from baseline, keeping their opponent back and are effective around the net. Players can serve with direction and developing power. Players work on decision-making and advanced techniques, spins and tactical patterns of play at a relatively high pace with CONSISTENCY.
BOOK ADVANCED COURSES
ADULT pay as you go SESSIONS
Our Pay as you Go sessions offer customers the opportunity to put their skills into practice at our social doubles sessions or if you fancy a little more structure, try our coached drop-ins. Booking is advisable as places are limited for these sessions.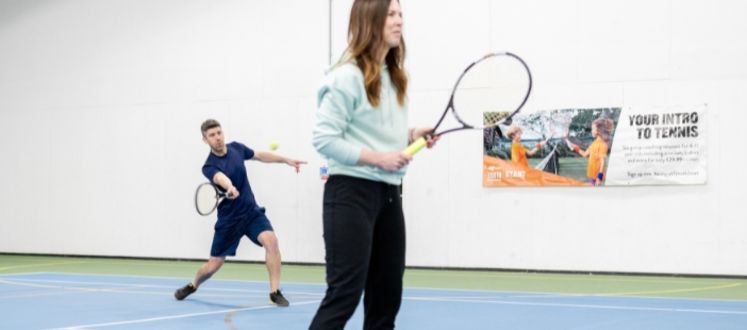 If you are looking for a little bit more structure and an energetic and competitive hit. Our centre coaches will lead you through some games based drills before you end the session with some doubles or singles points.
Sessions run every Wednesday from 6pm-7pm. 
Players must be able to rally and serve to attend this session.
BOOK NOW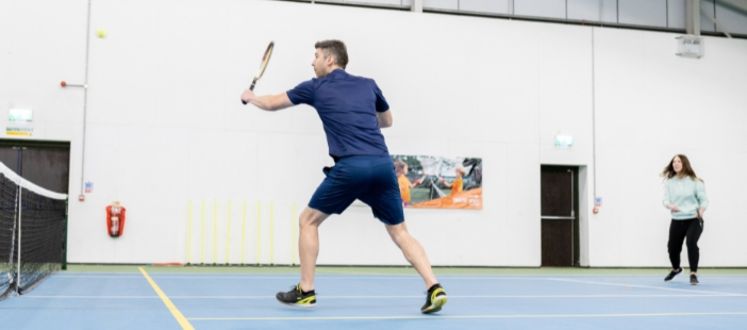 Cardio Tennis - coming soon
Cardio Tennis is a fun and sociable but high-energy group fitness activity. It is on a tennis court, supported by music and a qualified coach. Chase down every ball and burn lots of calories. The limited tennis playing experience is required.
Please note these sessions are not available atm, but please get in touch with the centre to register your interest.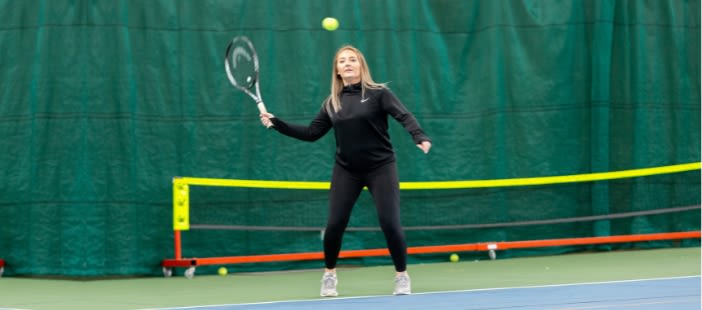 INDIVIDUAL LESSONS
1 to 1 lessons can be arranged for juniors and adults at Better Bodmin Leisure Centre with one of our enthusiastic and dedicated tennis coaching team.
To enquire about individual lessons, please email the centre to get in touch with one of our coaches.
EMAIL US
ADULT SOCIAL DOUBLES
Enjoy a friendly game of doubles at one of our adult social pay and play sessions. Turn up with a tube of balls and get ready for 2 hours of indoor mix and match doubles.
Players must be able to rally and score to attend.
Monday 10am - 12pm & Friday 10.30am - 12.30pm
BOOK NOW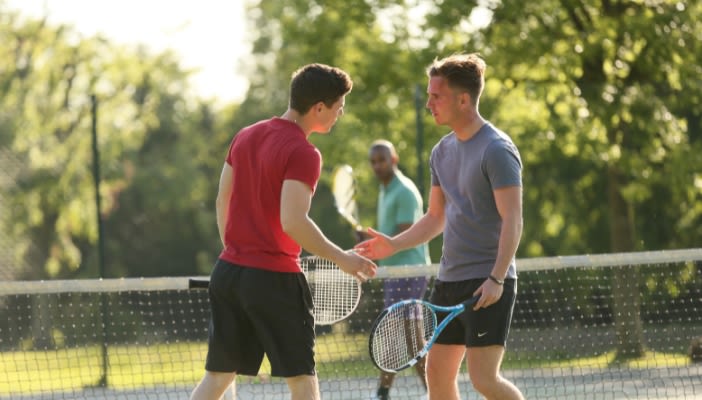 COURT HIRE
Indoor and outdoor tennis courts are bookable on an hourly basis. Customers can only hire one court per booking.
Indoor: Standard: £23, Members/Concessionary: £17.00
Outdoor: Standard: £12, PAYG: £9 Guest Fee: £5.50

As of November 1st 2022, there will be a £5.00 per court per hour charge for floodlights. 
BOOK NOW
Tennis Restring Service
Tennis Racket restring service is available at our centre. Please complete the racket restring form at reception. If you would like a specific string, then please provide it.
We currently supply Wilson Strings Poly Pro - For Power & Control, Synthetic Gut - For Power, and Sensation - For Comfort. Other strings are available. Please enquire online or at the reception desk for more information.
ENQUIRE NOW
LTA Venue Minimum Standards
Bodmin Tennis acknowledges the duty of care to safeguard and promote the welfare of children and adults at risk.  The club is committed to ensuring safeguarding practice reflects statutory responsibilities, government guidance and complies with best practice and LTA requirements.  A copy of the club's full safeguarding policy is available from Front of house
The club's safeguarding policy recognises that the welfare and interests of children and adults at risk are paramount in all circumstances. It aims to ensure that regardless of age, ability or disability, gender reassignment, race, religion or belief, sex or sexual orientation, socio-economic background, all children:
have a positive and enjoyable experience of tennis at Bodmin Tennis in a safe and inclusive environment
are protected from abuse whilst participating in tennis.
 Bodmin Tennis acknowledges that some children, including disabled children and young people or those from ethnic minority communities, can be particularly vulnerable to abuse and we accept the responsibility to take reasonable and appropriate steps to ensure their welfare.  
 As part of our safeguarding policy Bodmin Tennis will:
promote and prioritise the safety and well-being of children and adults at risk
ensure everyone understands their roles and responsibilities in respect of safeguarding and is provided with appropriate learning opportunities to recognise, identify and respond to signs of abuse, neglect and other safeguarding concerns relating to children and adults at risk
encourage and maintain a culture where people feel able to raise a genuine safeguarding concern and are confident that it will be taken seriously
ensure appropriate action is taken in the event of incidents/concerns of abuse and support provided to the individual/s who raise or disclose the concern
ensure that confidential, detailed and accurate records of all safeguarding concerns are maintained and securely stored
prevent the employment/deployment of unsuitable individuals
ensure robust safeguarding arrangements and procedures are in operation
The Centre Welfare Officer can be contacted on: Karen Edmond 07977276785 
GLL National Safeguarding Officer Muir Forrest muir.forrest@GLL.org
Tennis Cornwall Safeguading Lead Rachel Smith safeguardingcornwall@gmail.com 
The club's policy and procedures will be widely promoted and are mandatory for everyone involved in Bodmin Tennis. Failure to comply with the policy and procedures will be addressed and may result in dismissal/exclusion from the club.
Whistleblowing
Anyone who does not feel comfortable raising a concern with the Club Welfare Officer should contact the LTA Safeguarding Team directly on 020 8487 7000, the Local Authority Designated Officer (LADO) or the NSPCC on 0808 800 5000.  Further details about whistleblowing can be found in the club's safeguarding policy.
Monitoring
The club's safeguarding policy will be reviewed every two years, or sooner in the following circumstances:
changes in legislation and/or government guidance
as required by the Local Safeguarding Children Board or LTA
as a result of any other significant change or event.
British Tennis Safeguarding Policy
British Tennis Diversity and Inclusion Policy
For more information on our safeguarding commitment or on LTA minimum standards at Bodmin Tennis Centre, please contact Karen Edmond Welfare Officer by emailing: karen.edmond@gll.org. 
Tennis Short Courses
Try Tennis with our Tennis Short Courses. These 3 block of sessions are ideal to get on court, have fun and hit loads of balls. These are coach led sessions.
Adult Courses start Tuesday 9th January 2024