Find a Legs, Bums and Tums Class Near Me
Local Legs, Bums and Tums Classes
Level: All abilities | Calories burned: 300/hr
Tone up and feel good at a Legs, Bums and Tums (LBT) class. Packed full of moves that will work and strengthen your body, LBT classes continue to be a popular choice for getting you active on a weekly basis. From squats and lunges for your legs to stomach crunches and back raises, work out your whole body to music, and meet a bunch of new people. 
Local Legs, Bums and Tums basics
Level: Beginners | Calories burned: 300/hr
With simpler movements and lower intensity, Legs, Bums and Tums basics is perfect for people starting their fitness journey, older adults and anyone looking to build confidence or returning to activity after a break. Sculpt, tone, condition and build strength while focusing on three key areas: Bums, Tums & Thighs.                                                               
Best for: Strength and conditioning
What are the benefits of Legs, Bums and Tums classes?
Target and tone those wobbly bits at a Legs, Bums and Tums class near you. Here's why you should try this popular choice from our huge range of fitness classes:
Maintain a healthy weight - LBT is a low impact, aerobic workout which gets your heart pumping, burns calories and contributes to maintaining a healthy weight when done regularly
Build stamina -  you'll be working on your cardio so you'll be able to stay active for longer
Tone your body - as the name suggests, the class focuses on those areas where fat is hard to shift. All the exercises are created to tone up your tummy, bum and thighs 
Increase flexibility and coordination - no two exercises are the same, so you'll work on your flexibility and coordination
Reduce stress and build confidence - hard day? A LBT workout will have you moving to the music, releasing endorphins (feel-good hormones) and better physically and mentally
Stay motivated - meet new people and become a regular part of a LBT class
Book a LBT class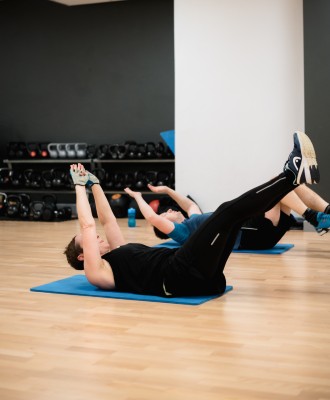 What to bring to a Legs, Bum and Tums class?
Comfort is key to enjoying the class, so please wear breathable clothing such as a lightweight t-shirt, leggings and a sports bra (if you're a woman). You want to be able to move and stretch with ease. Plus bring a bottle of water to class with you – you can fill this up for free around the centre. You may also want to consider taking a towel in case you sweat. 
You may also like