Find Zumba Classes near Me
Local Zumba Classes for Everyone
Level: All abilities | Calories Burned: 550 p/hr
Inspired by a range of dances such as salsa, flamenco, reggaetón and hip hop, Zumba transforms your fitness routine into a fiesta. Whether you can keep a beat or you're a beginner with two left feet, we have the best Zumba lessons to get everyone up and moving. Find a Zumba class near you at your local Better leisure centre. 
Book a class
Zumba Basics
Level: Beginners/coming back to exercise | Calories Burned: 390p/hr
With simpler movements and lower intensity, this class is perfect for people starting their fitness journey, older adults & anyone looking to build confidence. Zumba is such a fun way to combine exercise with dance, you won't even realise you're working out! Best for: Cardio fitness                  
Book a class
Zumba Benefits
Great cardio workout
Burns around 550 calories per hour
Suitable for beginners
Helps you tone muscles and create definition
You'll become flexible
Make friends in a social atmosphere
Zumba classes are fun and affordable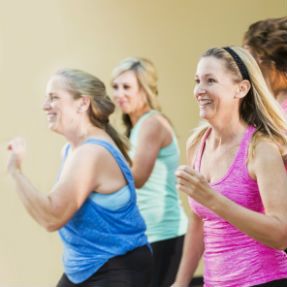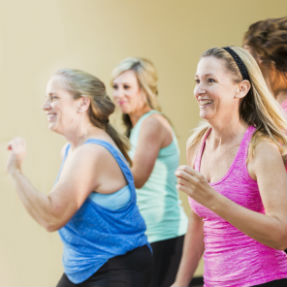 What to wear for Zumba
Practise your dance steps in a pair of comfortable trainers with good grip. Your Zumba wear should be light, breathable and allow you to move and stretch freely. Keep a towel handy if you think you'll need it, and please bring a bottle of water to class – you can fill this up for free around the centre.
Zumba FAQs
What is Zumba dance?
Zumba is an energising fitness class that fuses Latin dance with toning moves to give you an all-over body workout. Suitable for all levels, tone and sculpt while you dance through the class. 
Is Zumba a good way to lose weight?
The best way to lose weight is to combine a healthy diet with activity Zumba is a fun way shed the pounds and burns up to 550 calories per class, so you can lose weight doing Zumba. Zumba toning lessons will also help sculpt and tone your body. 
Is Zumba suitable for beginners?
Totally. Anyone can take part in a Zumba class and everyone is welcome. You may not master the Zumba dance steps straight away but you'll have fun trying and come out buzzing from this fitness fiesta.