Find a Dance Fitness Class Near You
Get Active and Feel Great
From Zumba classes that'll get your heart pumping to Social Dance classes to help you make friends as you work out, we have a variety of dance inspired classes to suit everyone.
Think you've got two left feet? Even if you've never danced before, everyone can take part in our dance fitness classes, no matter their fitness or ability level. We also run Basics dance classes for beginners, seniors and people who want to gradually build their confidence in the gym.
So, whether you want a fun and motivating dance cardio workout or are looking to socialise as you exercise, our dance classes will help you stay active and get fit.
Take a look at our range of dance fitness classes below to find the right one for you.
Our Dance Classes
Our basics class
Worried you won't be able to keep up with the steps? Our Adult Basics classes take things at a slower pace. With lower impact options and simpler movements, our Basics dance exercise classes are suitable for beginners, seniors and those returning to exercise.
Younger members can also join our Junior classes. For 11-16 year olds, these classes will get secondary school kids moving in a friendly and fun environment. 
Our passionate instructors will lead the class at a pace that's comfortable for you so you can develop your confidence and get moving.
"Exercise is everything to me, it makes me feel good, it keeps me sane, it also keeps me fit. Being active gives me a lot more energy and my mindset is much more positive " – Belinda, A Better Member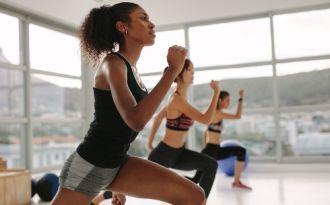 The Benefits of Dance Classes
Aside from helping you stay active, dancing for fitness can have a positive impact on your mental and physical health. 
Through our dance workout classes, you can:
Improve your cardio fitness – since dance is a form of cardio exercise, regularly going to one of these classes can improve your heart and lung health, especially for older adults.
Boost your mobility – our range of dance classes will have you moving your whole body in all different directions. Over time, this will help improve your mobility, agility and even flexibility.
Maintain a healthy weight - by regularly attending cardio dance classes, you can easily look after your body and maintain a healthy weight. Dance workout classes can even be good for weight loss if you're also getting enough sleep, drinking enough water and eating a balanced diet.
Make new friends – with our group dance classes you'll meet like-minded people in a safe and friendly environment. By attending regularly, you'll become part of a community that supports each other along the journey to fitness.
You may also like