Find a Social Dance Class Near Me
What is social dance
Level: All abilities | Calories burned: 300/hr
Meet new people and learn a new skill at a Social Dance class near you. Take to the floor and try a number of styles, including Fox Trot, Line Dancing, Tea Dancing, Cha Cha Cha and more. Learn a new skill and get active in a friendly and welcoming atmosphere. Whether you're a complete beginner or are brushing up, why not sign up for a Social Dance class at a Better leisure centre near you? 
What are the benefits of Social Dance classes?
Whether you're a Strictly Come Dancing fan or want to meet new people, here's why dancing is one of the best activities to try:
Builds strength - It may not feel like exercise but regular dancing helps strengthen your muscles in different parts of your body. 
Improves your mobility and balance - when you dance, you may move in different directions, stand on one foot and generally teach your body to become more mobile and flexible. You move in all planes of direction - forwards, backwards, diagonally and more - which tests and improves your balance.  
Gentle activity - social dance is a low-impact and enjoyable activity, suitable for all abilities and mobility levels. You can talk with an instructor before class if you want any modifications.
Boosts your brain power -  you learn steps, routines and more, which means you teach your brain how to recall steps and moves. Studies have shown that dancing is a great form of mental exercise that can help with your ability to organise and plan activities.
A social mood-booster - as the name implies, social dancing encourages you to meet people to pair up with and learn steps together. And when you dance to music, you'll instantly boost your mood and feel more relaxed. 
Book a Social Dance class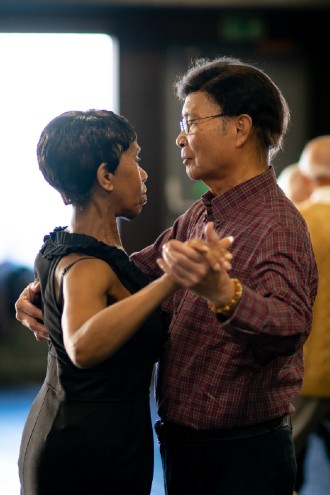 What to wear to Social Dance?
There's no need to buy a whole new wardrobe. All you need is clothing that you can move around freely in such as a cotton t-shirt and trousers or a dress or skirt. When it comes to footwear, women may want to wear a low heel, but you can also wear flats or trainers. Also remember to bring a refillable water bottle that you can top up for free around your local Better centre. 
Social Dance Basics
Level: Beginner or coming back to fitness Approx. calories burned: 210/hr With simpler movements and lower intensity, this class is perfect for beginners starting their fitness journey, older adults and anyone looking to build confidence. From Line Dancing to Tea Dance, this class combines social interaction with various forms of themed dance.
Best for: Cardio fitness and having fun.                                                                                                                                                                 
You may also like