Find a Group Cycle Class Near Me
Group cycle classes
Level: All abilities | Calories Burned: 560/hr
Energising, exhilarating, turn up the gears and sweat it out at a group cycle class near you. Not only will you get an all-over body workout, but you'll also kick your cardio system into gear.  Ramp up the resistance and get moving in this fun and motivating fitness class. Whatever your goals, get in the saddle on a stationary bike workout with a difference. 
Group cycle basics
Level: Beginners | Calories Burned: 400 p/hr
With simpler movements and lower intensity, this class is perfect for people starting their fitness journey, older adults and anyone looking to build confidence. Pedal yourself fit by cycling along with the group in one of our themed classes to uplifting music.                                                              Best for: Lower body strength & conditioning
What are the benefits of group cycling classes?
Give indoor cycling a spin and feel all the Better for it. Benefits include:
Boost your cardio and stamina - group cycling is an ideal way to train for long-distance endurance events as it gets your heart pumping steadily throughout the session
Builds muscular strength - pick up the pace and turn up the resistance to tone and strengthen your lower body
For everyone - forget coordination and rhythm or trying to balance on one leg, all you need to do is pedal a stationary bike 
Low-impact - unlike pounding the pavement, cycling is relatively low-impact on your joints.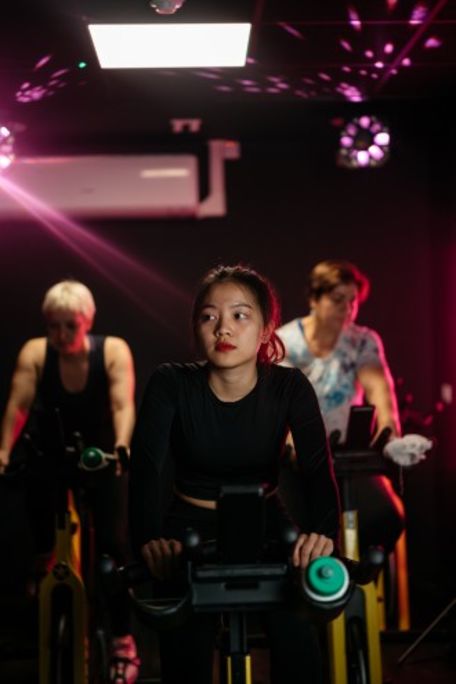 What to wear for group cycling
You'll be working up a sweat so wear comfortable, breathable clothes that are easy to move in – and bring a towel to keep handy. Normal gym trainers are ideal. Or feel free to bring cycling shoes if you have them. Please ensure you have a water bottle with you for class – you can fill this up for free around the centre.
You may also like