Find locations that have restarted swimming lessons
Welcoming you back!
We're so excited to start welcoming pupils back to Swim School! As your safety is of upmost importance to us, we have made a number of changes in line with Government and National Governing Body guidance, along with enhanced hygiene measures, to ensure your visits are as safe as possible.
To find out if your local pool has restarted swimming lessons, enter your location into the green box above and click on the checkbox 'Only show locations with current availability'. Unfortunately there are some locations and types of lessons that are unable to return yet. A list of suspended lessons can be found below and we are working hard to resume our full range of lessons as soon as possible.
We have also been working hard whilst we have been closed to make some additional exciting changes to how our lessons are delivered and the way our classes are structured. These changes allow for our lessons to be as fun and more progressive than ever before and your journey with us far easier.
Please ensure to read our frequently asked questions for the most up-to-date information on the new protocols. Your cooperation, along with the safety measures and all the efforts from our swim teachers, will help keep your visit safer, better and stronger than ever.
The below video details the safety procedures we've put in place, what you can do to prepare for your swimming lesson, and what to expect while you're there.
What are the key changes?
A new Customer Journey ensuring that we manage the flow of customers through the building and during and after lessons enabling social distancing.
A new delivery model that ensures our lessons are safe, progressive and fun for all children taking part.
Enhanced cleaning measures throughout the centre.
A new syllabus with more rounded outcomes  that celebrates pupil's achievements  as well an increased focus on developing water safety skills ensuring we catch up on the time children have missed out of the pool during the shut down period.
A reduced number of different classes. Pupils will be ability grouped and taught by a team of teachers to ensure progression whilst making your journey with us far simpler. Pupils achieving awards won't mean having to change times or days on a regular basis!
A clearer talent pathway enabling pupils to progress along  towards becoming the best swimmer they can
How have you made lessons COVID-19 Safe?
Whilst we are comfortable that Chlorine treated water is one of the safest environments for our pupils, we have also ensured that our lessons follow Government and industry guidance  and that the whole customer journey and environment is safe for our pupils, parents and teachers. The key changes we have made are:
All lessons have staggered start times to reduce the number of people in areas of the centre.
Introduction of Lead Swimming Teachers responsible for making all lessons COVID-19 Secure.
All Swimming Teachers will deliver from poolside for all swimming lessons.
All swimming lesson equipment is disinfected before, during and after all lessons.
All swimming lesson capacities have been designed to ensure that all pupils can take part in lessons safely
Swimming lesson activities have been reviewed to ensure we can teach a broad range of skills while ensuring COVID-19 Secure measures are maintained
OUR NEW CLASSES & ABILITY GROUPS
Following customer research and insight from our experience of running the UK's largest Swim School, our National team of Industry experts and tutors have been developing a new framework designed to make our lessons more progressive, provide a stronger foundation in Water safety and enhance the customer journey to ensure accessing good quality swimming lessons becomes easier and doesn't require you to have to continually change your weekly time table as pupils progress.
We have created a simpler set of classes, which will be led by a Lead Teacher, each class will contain ability groups which will each have a Qualified Swimming Teacher ensuring that each lesson meets the needs of the pupils in that group and increase the amount of 'Active Learning' time. Our Lead Teacher will also be tracking the progress of each pupil to ensure they can develop against the achievement criteria of each group.
All our current customers have been moved across to the relevant new class, each pupil will then the assessed to ensure they are placed in a suitable ability group within that class. We are conscious that many of our pupils will have not had lessons for nearly 6 months and our primary focus over the opening weeks of our programme is that their reintroduction to swimming lessons is a safe and enjoyable one.
Our priority is to ensure your child learns to be safe in and around water, developing their skills and strokes to become confident in achieving their milestones. Our new programme focuses on a set of achievements linked to a set of skills and distances achieved which are natural and progressive milestones for every child to become the best swimmer possible. Below is an outline of our new classes and ability groups:
Foundation
Previously known as:
Stage 1, 2, 3 (Wave 1, 2, 3 in Cardiff)
Description:
Teaching pupils the essential swimming skills to ensure they learn to be safe in and around water. Learning the basic techniques for all 4 strokes, achieving 10metre on Front Crawl and Backstroke by the end of their Green milestones.
Ability Groups: 
Red, Amber and Green
Development
Previously known as:
Stage 4, 5, 6, 7 (Wave 4, 5, 6, 7 in Cardiff)
Description:
Teaching pupils advanced swimming skills, developing their techniques on all 4 strokes to create efficient and effective swimmers. Lessons focus on a wide range of skills across all aquatic sports. Pupils will learn basic water survival and rescue skills as part of the milestone awards. Here we will also work with other partner clubs to assess each pupils ability to progress in talent pathways.
Ability Groups:
Bronze, Silver and Gold
Academy
Previously known as:
Stage 8, 9, 10 (Rookie Lifeguard and Swim Skills in Cardiff)
Description:
Supporting and developing your child to achieve their own person goals in the pool. Setting personal targets related to challenge award in fitness swimming, personal survival and junior lifesaving and other aquatic sports. Here we will continue to  work with other partner clubs to assess each pupils ability to progress in talent pathways should they choose to.
Ability Groups:
Lifesaving
Talent Lanes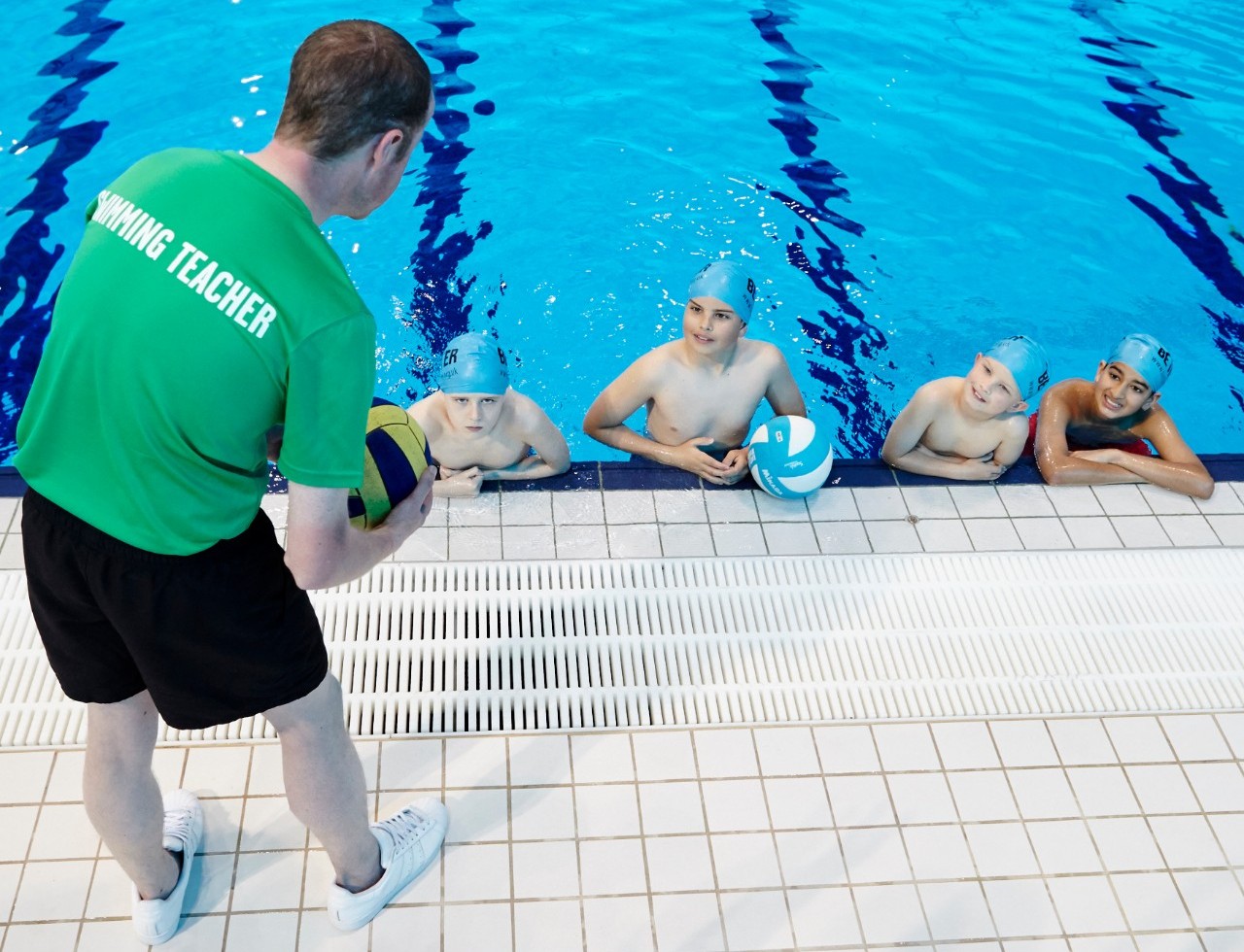 Introducing our New Lead Teachers
As part of our new programme you will see the introduction of our Lead Teachers. Every pool will have a designated Lead Teacher who is responsible for planning fun and progressive lessons and ensuring that your child achieves as much as they can.
Lessons that are still suspended
Unfortunately due to our current measures the following lessons are not restarting yet, we are however working hard to ensure they can commence soon
Swimbies
Pre School
Adults
Progress tracking
After booking your session, you can track your child's progress using our online tool; Home Portal. Easy to set up, you'll be able to access information and updates on the go directly from your swimming instructor. Features of Home Portal include: 
Records of achievement
Ability to book and pay online
One account for multiple children 
Why Choose Us?
We are the largest provider of swimming lessons in the UK. Across the country, we help over 135,000 people learn to love the water and keep active, by becoming capable and confident swimmers. 
Available at over 130 locations, we have designed our swim school programme to be flexible and affordable, with prices starting from as little as £3 per lesson (dependent on location). What's more, your children or you will be taught by experienced, qualified teachers.
Whether your children are beginners or you're wanting to build your confidence in the pool, we cater for all levels of ability and will help them progress in the world of water.
Book lessons today
Frequently asked questions
Last updated 22nd September 2020
Can't find what you're looking for? See the answers to the most frequently asked questions below.
New Swim School Programme
Why are we changing the Swim School Programme?
For the safety of our swim school participants, we have to make a number of changes to our lessons to ensure that we can deliver a Covid-secure service in line with Government guidance. We also want to ensure that our lessons are programmed and structured with our pupils (and parents) in mind.
Why are pupils being reassessed?
Children have missed nearly 6 months worth of lessons this year and skills in the pool will have regressed during this period. Our swimming teacher teams will be completing initial assessments to ensure that we can support and develop the skills which need the most focus during the first 4-6 weeks of lessons. All pupils will be assessed against their progress based upon their ability to demonstrate water confidence and achievements against the ability group criteria.
What is Team Teaching?
Team Teaching is the approach used where multiple Swimming Teachers work with a class to ensure that all pupils' needs are met. Rather than one teacher being responsible for one class, teams are led by our Lead Swimming Teachers to ensure that each lesson is flexible and adaptable to what each child needs to develop. This approach helps us increase overall active learning. Pupils will work with the same team of teachers for their class, but may have different teachers working with their group depending on what has been planned by the Lead Swimming Teacher.
What is Active Learning Time?
Active Learning Time is the measurement we use to assess how much movement and engagement takes place in each lesson. Active learning includes: every time a pupil is moving, swimming and receiving feedback or support. The more active pupils are the more they should progress.
What are the lesson ratios?
The average ratio for Foundation classes will be 1 Swimming Teacher to 8 pupils. In Development classes this will be 1 to 10. Academy classes 1 to 20.
When will assessments take place?
Progress will be tracked against what children are learning each week by the Lead Swimming Teacher and Teaching Team. The focus during the first 4-6 weeks of lessons restarting is to ensure all children re-learn the basic skills to feel safe and confident in the new normal for swimming lessons. During the first 4-6 weeks, Lead Swimming Teachers will ensure that pupils are working towards the correct awards and are in the correct class for their ability. Pupils will achieve individual awards with each level.
Will my child still get badges & certificates?
Due to Covid-secure measures, we will not be able to issue physical badges and certificates. You will still see your child's progress on Home Portal. We are working to develop a digital certificate system to replace physical certificates at this time. More details will be announced in due course.
Why do pupils have to wear a swimming hat?
This is a company policy, as well as being used to reward and recognise the individual's achievements from one ability group to the next.
Swim School Memberships and Payments
Why should my child return to swimming lessons?
Swimming is such an essential life saving life skill and drowning is still one of the most common causes in accidental death in children. As well as being an important life skill, swimming is also one of the most healthy and fun activities, improving strength, stamina, flexibility and posture - keeping your child active and happy at the same time.
Why are some swimming lessons coming back but not others?
Creating Covid-secure swimming lessons is a complex and challenging task. We want to make sure that we get the process right for the majority of our customers first before we bring back more of our swimming lesson programmes. We are constantly reviewing our programming and will keep all customers updated on when additional lessons will be brought back.
I want to cancel my child's swimming lessons
I cancelled my child's lessons. How do I reactivate the lessons again?
To reactivate your child's lessons, you will need to re-join again. We are accepting new joiners for Better Swim School at participating locations. Click here to find your nearest pool and enrol your child into swimming lessons.
How do I know if my lesson is restarting?
Each location will need to make an assessment based on whether they can facilitate safe activities and lessons within their facilities. Where they choose for lessons or services to remain suspended, please respect this decision.
Where lessons are running again, we have communicated via email to inform parents / guardians that lessons will be resuming.
To find out if your local pool has restarted swimming lessons, enter your location into the green box at the top of this page and click on the checkbox 'Only show locations with current availability'. 
For the safety of customers and staff and to ensure we can maintain current safety measures, the initial re-start of swimming lessons applies to group lessons for children over 5 years old only.
Lesson programming for 1-to-1 lessons, pre-school, parent & baby, and adult lessons are currently under review and remain suspended.
What is happening to my lesson payments?
If a location is open and re-starting swimming lessons, we have communicated via email to inform swimming lesson members when their membership freeze will be removed and when lesson payments will restart.
If a location remains closed in the short-term, members will be advised via email, and lesson payments will remain frozen until we are ready to welcome you back.
If a location remains closed long-term, members will be advised via email with the opportunity to move to an alternative location nearby.
Swim School Safety Measures
How long do I need to arrive before the start time of lessons?
All customers should arrive 10 minutes before the start time of their lesson in the centre specific Swimming Lesson Waiting Zone. The queue supervisor and centre staff will be on hand to support during the first few weeks to show where this area is and explain the customer journey process.
What does 'pool ready' mean?
We ask that all children arrive to the centre with their swimwear underneath clothing such as a tracksuit or onesie (something easy to remove). Once customers are at the Swimming Lesson Drop Off Zone, we will ask all children to ensure they have their swimsuit or trunks, swimming cap and goggles. If for any reason you cannot get your child pool ready before getting to the centre we will have limited areas for them to change.
Where do parents and/or guardians spectate?
To ensure that all parents and/or guardians can social distance while spectating we ask that only one adult accompany a child/children to swimming lessons.
In some cases, spectating may not be available, but an area elsewhere in the facility will be allocated for you to wait whilst your child's lesson is taking place.
If spectating is available, these areas may be existing spectator areas or new areas of the centre, like poolside.
The Queue Supervisor will explain where these are for each class during the first few weeks.
We ask that all parents and/or guardians remove shoes when entering poolside to help us maintain a clean poolside.
Please consider what to wear if spectating on poolside due to the high temperatures.
Do I have to wear a face covering if I am spectating?
In line with Government regulations we ask all parents and/or guardians wear a face covering while spectating swimming lessons in centre.
Why do we have limited time in the changing rooms?
All children and parents and/or guardians will have access to changing rooms after lessons. We ask that all customers keep to the 10 minute allocation to ensure we have time to keep these areas clean and keep our lessons running on time.
What if we are late?
The cut off time for all swimming lessons is the start time of the lesson; this is why we ask all customers to arrive 10 minutes before the start time. Queue Supervisors will try to accommodate customers who are late due to circumstances out of their control but this will be dependent upon lesson capacities.
What if I have more than one child in different lessons, what do I do?
Our new model is designed around our customers to reduce waiting between lessons. You can choose to move your children to times (via Home Portal) that are more convenient for you. Where you have children in different lessons that start 15 minutes apart, both children can be taken to the Swimming Lesson Drop off Zone pool ready. Your child can then either stay with you in the spectator area (if on poolside) or wait on poolside with the Teaching Teams.
Who can I speak to if I have any questions?
The Queue Supervisor will be able to answer any questions you may have about our new lessons.  If you have any questions before your lesson, please complete the contact us form on our website. 
Why are swimming teachers not teaching from the water?
We are following industry guidance to protect our staff from the risk of Covid-19 transmission. We have ensured that additional equipment is available to support children who are non-swimmers or swimming out of their depth. Our Swimming Teachers are trained to deliver all abilities from poolside. As Government guidance is revised we will review our programme to allow our teachers to deliver from the water.
How can I access my barcode to scan for entry into the leisure centre?
On the home page of your Home Portal account you will be able to hover over pupil name(s) towards the top (task bar) which will allow you to select the option to access barcode. Once selected, you will be able print screen and use via your smart phone or print and bring along with each visit.
How many entries will my barcode allow?
The barcode will allow up to 3 swipes per visit to enable pupils and guardians entry within the lesson period.